6 tips to help your company reach 6 million safe work hours
By Equipment World Staff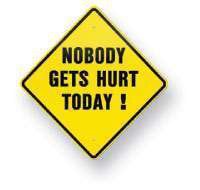 Nortrax, North America's largest John Deere construction and forestry dealer, recently surpassed 6 million work hours without a lost-time injury. Here's how they reached that milestone:
1.Know where the hazards are and eliminate them. Track injuries and know where they happen. Then, engineer out the risk. For example, if your company has a lot of metal-to-metal injuries with sledgehammers, use slide sledges instead.
2. Reward safe behavior with positive reinforcement. Managers are often too quick to correct and punish employees for doing something wrong. Instead, hold them up as an example of good work and publicly say, "Thank you." Sincerely expressed gratitude for a job well done is often more effective than cash and prizes.
3. Have the right personal protection equipment. Require everyone wear safety equipment, not just the workers, and ensure it is easily accessible. Visitors, including company executives, should also follow the same rules.
4. Make training frequent and short. Hours of safety training, or days dedicated to safety don't cut it. Talk safety daily to make important announcements, discuss any near hits and focus on one safety item. More formal training, once a month, can be hosted online.
5. Set up an injury reporting system. Reporting should be encouraged and immediate. Ask employees to report near hits so changes can be made to avoid future accidents. All accidents are preventable, and expect no lost-time injuries. Welcome government inspection as yet another set of eyes in order to be safer.
6. Create a constant presence of safety. At the beginning of each job, have employees fill out a checklist of everything needed to safely perform the task at hand. Post safety statistics. Have a regular safety column in the company newsletter. Hang a corkboard in the lunch room called "Why I Work Safely" where employees can post family pictures.
In conclusion, safety cannot just be a priority. It must be a core value, especially of senior management. It must be part of the culture where "Safety First" and "Safety Never Sleeps" are a mindset.
Source: James Larsen, Nortrax's industrial health and safety manager.

Doosan Infracore Portable Power will begin to shift away from using the Ingersoll Rand brand on its line of air compressors, generators and light towers, says David Stahlman, vice president of global marketing. Although Doosan has a five-year contract to use the
Ingersoll Rand name under a 2007 agreement with the company, "we wanted to make the brand transition earlier rather than later," Stahlman says. "We're the only ones in construction using the Ingersoll Rand brand, and we want to build on the name recognition Doosan has elsewhere in the world."
– Marcia Gruver Doyle
2% The jump in iron and steel prices for September, according to the U.S. Labor Department, was the first increase in four months.
$600 million
Amount the U.S. Department of Transportation's Tiger II program will disburse to 40 states for major infrastructure projects. TIGER stands for Transportation Investment Generating Economic Recovery. Roughly 29 percent of the money will go to road projects.
Number of financed LGP and non-LGP crawlers among Equipment World readers, 2004-2010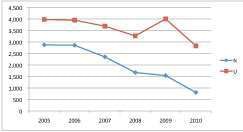 Track-side deals
Cat uses the Charlotte NASCAR race to promote used sales
Caterpillar dealers have long brought yellow iron customers along to the speedway, teaming up with Cat Racing to provide a a venue for building relationships. Four dealerships went a step further during this year's NASCAR Hall of Fame weekend in Charlotte, North Carolina – displaying 30 used Caterpillar machines in an on-site yard.
Working with Caterpillar Used Equipment Services, Cat equipment dealers Carter, Gregory Poole, Blanchard and Carolina trucked in pieces from their home yards, ranging from a 2005 226B skid steer loader for sale for $16,000 to a 2009 740 articulated dump truck available for $410,000. The 30 total pieces provided by the four dealers were joined by a pair of refurbished and/or repowered motor graders and a $650,000 777D off-highway truck provided by Cat Used.
Cat's objective for the first-time event was position its dealers "as the best source of used equipment," said Jim Johnson, president, Caterpillar Used Equipment Services. "All of this machinery has been inspected by the dealers; the dealers are standing behind them. It's a real differentiator."
With iPads in hand, representatives from each participating dealer worked with customers on any of the 33 machines present … and the 24,000 others available worldwide on www.CatUsed.com.
"I'm really hoping we can replicate this around the country," said Johnson.
The yard was open for business throughout the three days of racing activity. By Friday morning, a 277B multi-terrain loader was already wearing a "sold" sticker.
– Mike Anderson
Digital exclusives for November
Keep following the money
From Better Roads, our sister publication. There's work to be had for highway contractors, say stimulus analysts.
Marketplace Extra
Our digital-only new products section includes Miller's Digital Camo/Digital Elite auto-darkening welding helmets, Stellar's Model 12628 crane and Edge's Oscillating Snow Push.
Weigh in …
Take our poll! Visit www.EquipmentWorld.com and scroll down the left side of the homepage.
Our current poll:
How do you prefer to receive information about products for your business?
Results from last month's poll:
Smartphone (Blackberry, Droid, iPhone, etc.) –62%
Cell phone –29%
Two-way radio capable phone –9%
What kind of cell phone do you use for your business? (56 respondents)
Network with us!
Connect with EW on facebook and LinkedIn.
Enter "Equipment World" in the search field, join the group or "like" EW and stay updated on news and events while networking with fellow industry members.
Facebook pages:
https://www.facebook.com/EquipmentWorld/
LinkedIn:
https://www.linkd.in/EWmagazine
In our October Owning and Operating Costs feature on dump trucks, in the chart on page 45, a line stated "total owning costs" when it should have read "total operating costs." We regret the error.