By Equipment World Staff
CARB throws out estimates
The numbers just didn't add up
The California Air Resources Board has proposed a two-year delay to the start of its off-highway diesel emission regulations, in effect admitting the regs are not immediately needed to meet its emissions reduction goals. The announcement underscored CARB's admission that its previous estimates of off-highway diesel emissions were grossly off – in some instances by 60 percent.
CARB now proposes large fleet compliance – originally scheduled for March 1st this year – start on March 1st, 2012. Medium and small fleets compliance deadlines are still under review.
The CARB action, announced in a series of five workshops this fall, is the latest agency retreat on the issue. On Feb. 11, CARB postponed its enforcement of its emissions rules for large fleets with more than 5,000 total horsepower. (See the April issue of Equipment World, pages 17 – 26.) CARB admitted it couldn't enforce the rules without the U.S. EPA's permission, and then later said it would review its equipment inventory estimates, used as the basis for its regulations.
These estimates have been under strong attack by the Associated General Contractors of America, which commissioned an equipment inventory using CARB's data from its Diesel Off-road On-line Reporting System, or DOORS. (All California construction fleets are required to give CARB detailed fleet information using DOORS.) AGC contended the CARB rule was not needed to satisfy the state implementation plan for reducing either nitrous oxide or particulate matter emissions. As an example, in 2000, CARB estimated NOx emissions from off-road fleets to be 311 tons per day this year; the AGC inventory placed that number at 222.5 tpd, or almost 80 tpd less than the limit sought in the off-road rule.
These delays may give some relief to the industry after the recession, which caused 26 of 28 metro areas in California to lose construction jobs between March 2009 and 2010, says Mike Kennedy, AGC's general counsel.
CARB wants to continue to monitor and control emissions from the industry's construction fleets and could reveal new proposed rules in December.
– Marcia Gruver Doyle and Lauren Heartsill
Construction deaths plunge in 2009
Fatal construction accidents dropped for the second year in a row, according to the U.S. Bureau of Labor Statistics' National Census of Fatal Occupational Injuries. For 2009, the census recorded 818 fatal injuries, a drop of 16 percent from the 977 injuries recorded in 2008. The 2008 number was a 19-percent decline from 2007 figures.
Statisticians believe the numbers correlate to the corresponding loss of jobs within the construction industry. For 2009, the number of total hours worked declined by 17 percent, following a 10-percent decrease the previous year. For the full summary, visit https://www.bls.gov/news.release/cfoi.nr0.htm.
– Amy Materson

Kenworth offers FEPTO option for T800
Kenworth's T800 is now available with a front engine power take-off option, useful for jobs that require a front engine PTO such as dump, crane or mixer applications. A new hood design provides an increase in cooling module size without raising the cab height. The configuration also provides a front frame extension for front mounted equipment such as hose reels.
95 The number of work zone fatalities caused by motor vehicle traffic crashes in Texas in 2009, the highest of any state. Kansas, New Hampshire, North Dakota, Vermont and West Virginia had no fatalities. For state-by-state numbers, visit www.workzonesafety.org/crash_data/workzone_fatalities/2009.
On the Web
United Rentals has launched a mobile website with a smartphone interface, enabling customers to search for equipment, get rental quotes and find branches while on the go. The site, unitedrentals.com, functions on most smartphone platforms, including Android, Blackberry, iPhone and Windows Mobile.
Case developed its new website, www.CaseCE.com/Tier4_NA, as a tool for their customers to understand EPA Tier 4 Interim emissions regulations that take effect next year. The site includes the timing of the requirements, explains technologies used to achieve compliance and provides a FAQ section.
Number of financed excavators 2000-2010*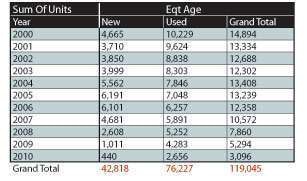 Rough roads
TRIP, a national transportation research group, has released a report that says 24 percent of the nation's major metropolitan roads have pavements in disrepair. Here's the top 10, followed by the percentage of roads in poor condition.
1. San Jose, California: 64 percent
2. Los Angeles, California: 63 percent
3. Honolulu, Hawaii: 62 percent
4. Concord, California: 58 percent
5. San Francisco-Oakland, California: 58 percent
6. New Orleans, Louisiana: 55 percent
7. New York-Newark, NY/NJ: 53 percent
8. San Diego, California: 50 percent
9. Indio-Palm Springs, California: 47 percent
10. Baltimore, Maryland: 46 percent
Diesel electric hybrid fuel truck developed
Freightliner Trucks has paired with Diesel Direct to develop the first diesel electric hybrid fuel truck. The Freightliner Business Class M2 106 Hybrid has an Eaton Hybrid Electric drivetrain system, which enables the truck to operate using only the diesel engine, or in combination with the hybrid electric motor. The truck, which will be used primarily to deliver fuel to fleets, will save up to 30 percent in fuel consumption, according to Diesel Direct president Dan Abrams.
FMI retreats slightly from positive outlook
FMI's Nonresidential Construction Index measured 51.3 for the third quarter of 2010. While still in growth territory, the number is slightly lower than last quarter's number, 54.5. Industry consultant FMI noted the number was slightly lower due to the expectation of significant budget cuts by states and municipalities next year, a result of lower tax revenues. Another contributing factor is the winding down of federal stimulus money.

Hall of Fame
The Construction Writers Association has elected Equipment World's contributing editor, Kirk Landers, as the lone 2010 inductee to the CWA Hall of Fame. Landers, the current editor emeritus of Better Roads, a sister Randall-Reilly publication, will be inducted during CWA's annual conference October 25-26 in Chicago. To see Kirk's latest column, go to page 98.