Equipment Resurrection
3 tips to get idle equipment ready to go
1. Fight fuel fungus
If your diesel engine has been idle for more than three months, you could be facing fungus. Bacterial and fungal growth can clog filters, pumps and fuel lines, and also produce organic acids that speed corrosion. Use a diesel fuel stabilizer or treatment that will circulate throughout the fuel system.
2. Exercise equipment
Start your engines – then allow them to run for at least 10 minutes. Performing this step on a monthly basis will keep the batteries charged and get the fluids flowing through the gears, preventing dry seals. Make a checklist of maintenance actions and assign to specific people. The list should include fluid and gauge checks, walk-around inspections and running the machines.
3. Prevent rust
Retract each cylinder tightly to minimize exposure, and then shelter the machine. Use rust-preventive spray grease that offers at least six months of protection.
Remember, if your equipment has been idle for six months or longer, more extensive work will be required. You'll need to perform analysis on all fluids – engine oil, fuel, coolant and hydraulic fluids – and carefully check grease fittings, tires and safety items.
Source: Kawasaki
$2.95 per gallon
The average price of diesel fuel (8/23/10) as estimated by the Department of Energy. The DOE estimates the average will reach $3.14 in 2011.
22 Percent decline in construction employment since July 2008 – a total of 1.5-plus million jobs, according to the Associated General Contractors of America.
There's an app for that
Volvo Rents has launched a free iPhone app for customers. The app, available in the iPhone app store, includes a GPS store finder, downloadable equipment brochures and an RSS feed, as well as equipment specs.
JCB has unveiled smartphone-friendly mobile websites – compatible with iPhone, Blackberry, Droid and EVO phones – that allow mobile customers to search for inventory, promotions, store hours and dealership locations. JCB's sites automatically detect if a visitor is using a mobile device and adjusts the content format.
Number of financed backhoes 2004-2010
What they said
"We just can't have these vocations positioned as some sort of consolation prize."
– Mike Rowe, host of the Discovery Channel's "Dirty Jobs," on convincing young people that learning a trade is a successful alternative to college during a press conference announcing a partnership with Caterpillar to promote the industry.
"It's one thing to take a couple of billion dollars and park it somewhere at the state government or say it's coming, but you can't call that jobs and you can't call that stimulating business. The only time you can call that supporting jobs and stimulating business is when there's actually checks being written to businesses, to create the flywheel. That's the notion of velocity."
– Michael Balsam, Onvia's chief strategy officer, explains to Better Roads magazine the rationale behind his company's velocity metric for ranking states in stimulus effectiveness. (Better Roads is a sister publication to Equipment World.)
"If there is truly such a thing as democratic transportation planning, then the Eastern American bison were probably the first – and last – practitioners."
– Author Matt Dellinger in his newly-released book,
"Interstate 69: The Unfinished History of the Last Great American Highway."
Digital exclusives for September www.EquipmentWorldDigital.com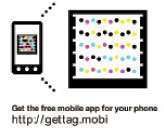 Smart content
To expand the Equipment World experience, we are now using Microsoft Tag barcodes that enable you to use your smartphone to unlock access to additional articles, video and more. The service is free and works with Windows Mobile, Android, Blackberry and iPhone platforms. To download the app, enter http://www.gettag.mobi into your mobile browser and follow the instructions. To view the content, scan the tag. You'll come across several smart tags in this issue, including the tag at left, which will take you to our current digital issue.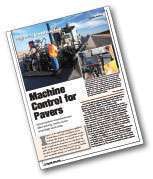 Highway Contractor:
Machine control
Senior Editor Mike Anderson examines machine control for pavers – and which systems offer paving crews cool, high-tech help.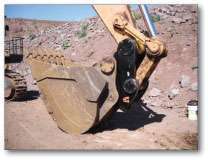 Marketplace
Extra
Check out our digital-only extras including Transcube's fuel tanks, Felling Trailers' X-Force model, Bandit's Model 3090 chipper, Norco Attachments' Wedgelock quick coupler, Kaeser's M64 Mobilair compressor and more.
Network with us!
Connect with EW on facebook and LinkedIn.
Enter "Equipment World" in the search field, join the group or "like" EW and stay updated on news and events while networking with fellow industry members.
Facebook pages:
https://www.facebook.com/EquipmentWorld/
LinkedIn: