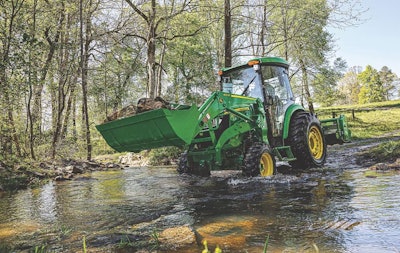 John Deere
At 75 horsepower, John Deere has added its most powerful compact utility tractor yet to the 4-Series lineup, the new 4075R.
In addition, the manufacturer has upgraded its 4R-, 4M- and 3R-Series tractors for enhanced performance and operator experience in heavy-duty work applications.
"Our customers are always seeking solutions to help get the job done faster and with more ease. Our MY24 compact utility tractors are equipped with game-changing features to help do exactly that," said Mark Davey, go-to-market manager, John Deere. "By taking our customer-trusted models, and elevating their comfort and performance features, we are setting our customers up for success year-round, even in the most challenging conditions."
Equipped to tackle commercial snow removal and property management jobs, the 4075R features a 75-horsepower, Tier 4 Final Yanmar diesel engine and heavy-duty front axle.
The 4075R, along with the full lineup of model year 2024 4R cab machines, boasts an electrohydraulic (EH) rear hitch control. The electrohydraulic hitch can be set from inside the cab, and operators can lock in depth levels for precise control and repeatability during rear-implement applications.
The eHydro convenience controls have been integrated into a single module in the 4-Series models.
eThrottle: When eThrottle is activated, the depression of the travel pedal increases engine rpm and tractor speed.
LoadMatch: When LoadMatch is activated, the engine will not stall during heavy load applications.
SpeedMatch: When SpeedMatch is activated, the operator can set the desired maximum forward or reverse travel speed.
MotionMatch: When MotionMatch is activated, the operator can set shorter or longer accelerate and decelerate distances.
Automotive-Style Cruise Control: When cruise control is activated, the operator is able to set cruise speed.
All model year 2024 3R- and 4R-Series tractors, as well as heavy-duty 4M models, feature lighting enhancements, including LED headlights, LED work lights and an LED beacon light option for cab models.
Creature comforts have been enhanced on the 3R- and 4R-series cab models, including an improved climate control system, Bluetooth radio, and dual USB ports.
Packages designed specifically for snow applications are available on the 4R cab models to help ensure ideal operation and performance in severe winter weather conditions.