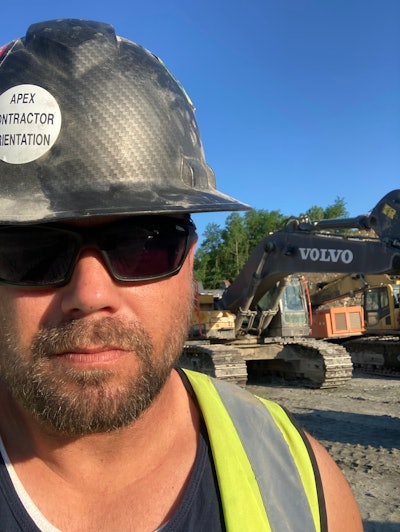 Brandon Balwanz
Editor's Note:
This is part of Equipment World's in-depth series that explores the troubling state of mental health in the construction industry and what can be done about it. Also in this series: Why the Industry's Suicide Rate So High?
Brandon Balwanz was operating a chop saw cutting forms for a concrete pipelaying job when he tripped and fell.
He was still holding onto the saw with its 14-inch circular blade as it cut into his leg.
That was in 2012 and so began a long struggle with addiction, starting with the opioid pain pills he was prescribed. He's been clean three years now and has been able to help others in the gas and oil pipeline construction field who have struggled just as he has. At 40, he's a foreman and equipment operator and leads a crew of 10 to 12 workers.
He's found that being drug-free has made life much better for himself, his family and his coworkers.
"I had a lot of anger issues for a long time," he says. "I try to let that baggage go. Once you do, it's a weight off."
Overprescribed and Cut Off
When Balwanz began taking the prescribed pain pills, he was young and arrogant and knew nothing about addiction, he says.
After about two years of taking the medication, public outcry and government crackdowns of the opioid industry were emerging. His pill supply ended.
"They overprescribed me and then they just cut me off," he says.
When the pills became hard to get, he switched to heroin.
"I was a drug addict, no doubt about it," he says. "I'm sure that they had noticed that at work." He wasn't missing work, but he was full of anger and hard to be around.
Then came fentanyl.
That's when he suffered his first accidental overdose. The much stronger drug caught him by surprise.
"Get Clean or Die"
Balwanz says he was lucky to be alive after the overdose.
He got clean and went to work for another energy pipeline company. He stayed clean for about two years.
In 2018, he relapsed. A couple more accidental overdoses occurred.
Then his girlfriend became pregnant. He wanted to be a good father. He had finally had enough.
"I just got tired of missing life in general," he says. "I was a zombie, so desensitized and no connection with anybody.
"I was going to die, or I was going to get clean. It was one or the other."
He returned to a rehab he had been to before. But this time things were different.
"I took it serious that time. Maybe I just had a different outlook."
Reaching Out to Others
Balwanz tries to help coworkers he sees suffering from addiction or other mental health problems.
"You see it all, from mental illness to addiction to alcoholism. It's a rough field," he says. "When I encounter those guys now or deal with those guys now, I make sure it's safe in the first and foremost at work, but you try to help them the best way you can, listen to what they've got to say, hear what they've got going on in their lives."
He's seen some recover from addiction, and there are some who have died.
He's been honest with his employers about his addiction.
"But I also say, 'Hey, that's not me anymore, and I don't need to say that because my work is going to speak for itself.'
"I work hard, and I'm good at what I do. … They respect that."
Balwanz has seen some improvement in the energy construction field over the years in dealing with mental illness and addiction. At the company he is now with, he says, the HR officer makes a point to reach out to struggling employees. He also looks out for Balwanz and asks how he's doing.
Balwanz believes the industry could do more of such open communication to help improve workers' mental health. Sometimes, just talking to another worker about his family or how things are going can go a long way.
"Then these people become more real," he says. "They have lives as well, families and children and wives and mothers and fathers. You become interested and you get more concerned, and that's how it should be."
As for Balwanz, he's learned to handle emotions on the job much better and avoids putting himself in overly stressful positions.
"I've been clean three years," he says. "I've got 10 to 12 guys working for me. My kids are good, and things are good at home.
"I'm grateful to be alive."
Contractors' Stories of Hope
To read other accounts of contractors who have overcome mental health challenges, check out our stories below.
Also in this series:
Help is Available
If you are facing a substance use disorder, call 1-800-662-HELP (4357) to connect with the Substance Abuse and Mental Health Services Administration National Helpline, a free, confidential, 24/7, 365-day-a-year treatment referral and information service (in English and Spanish). The SAMHSA Helpline can provide referrals to local treatment facilities, support groups, and community-based organizations.
If you are experiencing a suicidal crisis or mental health-related distress, call or text "988" to connect to the 988 Suicide and Crisis Lifeline, a national network of more than 200 crisis centers providing 24/7 confidential support from mental health professionals.
Veterans can press "1" after dialing 988 to connect directly to the Veterans Crisis Lifeline, which also serves active service members, National Guard and Reserve members, and those who support them. For texts, veterans should text the Veterans Crisis Lifeline short code: 838255.