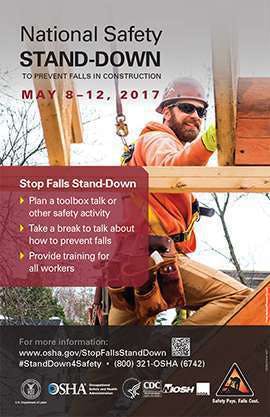 The Occupational Safety and Health Administration (OSHA) is inviting everyone to join it this for National Safety Stand-Down To Prevent Falls in Construction.
OSHA says falls from elevation continue to be a leading cause of death for construction employees. The National Safety Stand-Down is focused on raising fall hazard awareness across the country in an effort to stop fall fatalities and injuries.
Companies can conduct a safety stand-down by taking a break to have a toolbox talk or other safety activity, such as conducting safety equipment inspections, developing rescue plans, or discussing job specific hazards.
Managers are encouraged to plan a stand-down for their workplace during the week of May 8-12. Additional information about events in your area and resources to help plan and carry out stand-downs are available on the OSHA website.
After the stand-down, employers are invited to provide feedback about their stand-down and download a Certificate of Participation.