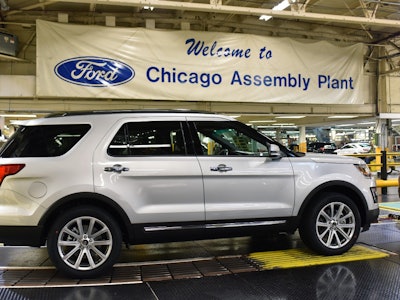 A contractor was killed and an automotive worker was seriously injured when a wall collapsed at Ford's Chicago Assembly Plant over the weekend.
According to NBC Chicago, 45-year-old John J. Jaloway was killed Saturday morning in the 8-foot by 8-foot-wall's collapse. An unidentified 48-year-old Ford plant worker who went to help Jaloway was critically injured as well.
The collapse occurred as Jaloway was working to cut a double door into the wall, which had previously drawn complaints from a plant employee as appearing unsafe.
NBC reports that in late 2014, Ford employee Donny Harris submitted 13 complaints to the Occuptional Safety and Health Administration about conditions at the plant. Several of those complaints dealt with the wall that collapsed Saturday.
NBC summed up Harris' complaints:
"The paneling on the walls in many areas is barely hanging, looking as though they are ready to fall at any moment," Harris wrote to OSHA. Harris also reported seeing "large holes that go directly through the building making it possible for small to medium sized animals to walk right in" and "huge bricks are halfway hanging out looking as though someday they will fall on a person."
OSHA investigated the complaints but issued no citations. Harris says Ford did make some minor repairs to the wall after his complaints but says its collapse more than a year later is no coincidence.
OSHA is not investigating Ford but is investigating the subcontractor on the project.