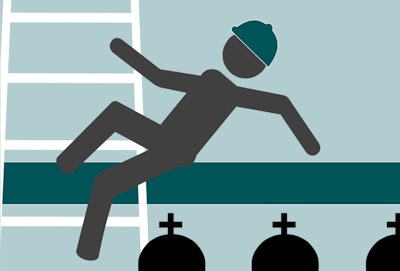 Citing data that shows construction represents less than 4 percent of total employment in New York while accounting for 20 percent of the state's workplace deaths, a new report points the finger of blame for the state's dangerous jobsites squarely at the federal Occupational Safety and Health Administration's low funding levels.
The report, put together by the New York Committee for Occupational Safety and Health, says the federal agency doesn't field enough inspectors in the state to ensure safe jobsites and says when it does find infractions, the penalties it levies aren't nearly severe enough.
According to the report, only 71 OSHA inspectors were on staff to inspect New York jobsites as of April 2014. The report says with that number of inspectors, "only a small fraction of construction sites are ever inspected."
And in New York, a state where two-thirds of OSHA inspections between 2010 and 2012 resulted in citations for "serious" safety violations, that's extremely problematic, the report argues.
Of the violations in that period, 51 percent were of safety standards intended to prevent worker falls. Compounding things further, 71 percent of construction accidents in the state between 2008 and 2013 were height-related.
The report refers to OSHA as "understaffed and overwhelmed," saying the department is "stymied by a U.S. Congress that refuses to fund the agency."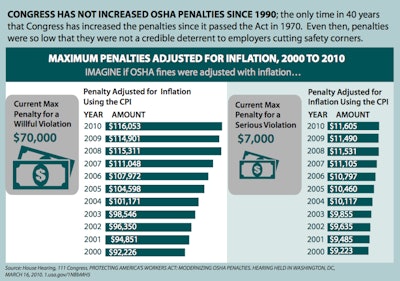 In addition to suggesting an increase in the agency's funding so it can staff more inspectors, the report also suggests Congress increase the dollar amount on penalties OSHA can enforce. These penalties have not increased since 1990. The average penalty assessed for serious violations in New York was $2,016, according to the report.
"Among the violations cited in 17 of 19 investigations of height-related construction fatalities
in New York in 2012, the initial fine per fatality averaged $10,328 and, after negotiated or adjudicated reductions, the fines averaged only $7,620 per fatality38 of which 14 were for less than $10,000 and ten were for $5,000 or less," the report reads.
With an increase in these fines, the report recommends that fines from repeat and willful violators go toward paying for more staffing and inspections.
You can read the full report here.