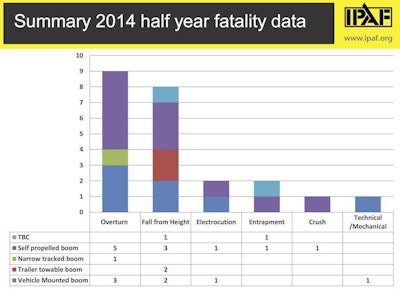 The International Powered Access Federation, a non-profit group that promotes the safe use of powered access equipment, has released half-year results for the organization's accident reporting project.
The report indicates there have been 23 fatalities worldwide involving aerial work platforms in the first half of 2014. Thirteen of the fatalities occurred in the United States, with two in Germany and one each in Australia, Austria, Colombia, Malaysia, Singapore, South Africa, Spain and the UK.
Nine of the fatalities were caused by the AWP overturning, and 8 of the accidents were falls from height. Three of the fatalities were caused when the worker was trapped or caught by the machine, two were caused by electrocution and one fatality was caused by mechanical failure.
IPAF's CEO Tim Whiteman notes that, while accidents do occur, more than one million rental aerial work platforms are currently in use worldwide. "They are one of the safest ways to do temporary work at height," he says.
The group's accident report project collects data via direct reports to the IPAF accident database and information obtained by IPAF staff as well as gathered from news reports.