Changes to the stopping distance regulations are here. But manufacturers say they'll easily clear the bar.
By Jack Roberts
The first phase of National Highway Traffic Administration's new stopping distance regulations for heavy trucks become law on August 1.
At first glance, the stopping distance regulations seem daunting: Passenger cars in the United States traveling at 60 mph must be able to come to a full and complete stop in 140 feet. Fully-loaded Class 8 tractor-trailers currently must come to a full stop from the same speed in 355 feet. After August 1, that distance will be cut by 30 percent to 250 feet. The National Highway Traffic Safety Administration estimates the new rules annually will save about 227 lives and prevent more than $169 million in property damage.
The first phase will require three-axle tractors with a gross vehicle weight rating (GVWR) of 59,600 pounds or less to meet the reduced stopping distance requirements by August 1. The second phase – directed toward two-axle tractors and tractors with a GVWR above 59,600 pounds – has an August 1, 2013 deadline. (See chart.)
Larger brakes – not new technology – the key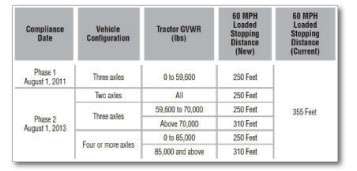 Given the leap forward truck brakes will be required to make this year, one could be forgiven for thinking that new, more expensive technology will be required to insure vehicle compliance with the new law. In fact, immediately after the new regulations were announced, industry insiders speculated a shift to air disc brakes would be required to insure compliance. But that will not be the case.
Most manufacturers will use larger conventional drum brake components to meet the rule. They note the front axle of the truck – particularly the front drum brakes – will bear the brunt of specification changes. While the standard brake has been 15×4 inches, the new brakes will 16.5×5 inches.

Engineers at brake manufacturer Meritor believe brakes meeting the revised stopping distance regulation could require larger front and rear brakes sizes with advanced friction materials, new front brake spiders, and stronger mounting bolts, while slack adjusters will remain unchanged at 5.5 inches.
Parts, service considerations
Assembly procedures and brake maintenance in general for these larger brakes will not change for users who perform their own maintenance. Keep in mind, though, many of the old parts you use may or may not fit the new brakes.
One benefit may be that fleet maintenance costs could go down because the larger steer axle brakes will decrease wear on the remaining tractor-trailer brakes. And a truck's brake balance front to rear and mileage between brake replacement intervals should improve – perhaps significantly.
After Aug. 1, certain new Class 8 tractors traveling at 60 mph must come to a full stop within 250 feet.
There may be some incremental costs, however. Replacement brake shoes will have unique part numbers, so users replacing shoes will need to purchase a shoe with a new part number. And a minimal price increase is expected for the new brake linings.
What about air disc brakes?
If users typically will be able to meet the new stopping distance regulations using drum brakes, why so much interest in air disc brakes of late? Mainly because – original, and now corrected teething problems aside – air discs are a superior product, manufacturers say. And there is speculation the trucking industry will eventually convert from conventional drum to air disc brakes, even though it will require a major transition.

Air disc brakes offer many advantages, including lower service times, and permanent lubes and seals. Still, components tend to be more expensive. Which is why some manufacturers recommend users ease into using air disc brakes so they can become familiar with them.
SOURCES:
Bendix Spicer Foundation Brake
Haldex
Meritor