Make your supplier part of your emergency response team
by Thomas D. Aldridge, Jr.,
Griffin Pump and Equipment
Many contractors view dealing with a pump – either in a bypass operation or a dewatering application – as a problem. Most contractors make their living by moving dirt, laying pipe, or building, so pump suppliers who can respond quickly to their needs can often help ease their mind.
Contractors need to make sure their pump suppliers vendor knows what they're facing. In order for them to correctly respond, they need to know several job specifics, including flow rate, discharge head, size of piping, suction lift, power source, etc. They need to know what's known on the job, the items that are unknown, and the assumptions they can make to provide the proper selection of equipment and tools. When they ask the right questions, pump suppliers have a better chance of success with minimal frustration.
Your supplier should then make a determination of what fits best. After there is some understanding of the problem at hand, the choice of a pumping system can be made. Your vendor will determine the best combination of a technical and practical solution. The technical factors are usually the easiest for someone to get a handle on. The challenges of the practical solution are more difficult because they can include time and space considerations, geography, and equipment availability.
While on a recent project in Albuquerque, a contractor asked us to respond to an emergency project: a collapsed sewer line that had a flow of about 7,000 gpm, with the flow-line elevation at about 18 feet below grade, creating a significant suction lift requirement. There was also a time constraint because the collapse was causing the line to backup further upstream. Griffin responded by using an 18-inch Variable-Use Pump with the capacity they needed and the ability to meet the suction lift requirements. With our vacuum-assisted pumps, we knew that we could prime the pumps in a relatively short time and maintain the prime when the system was operational.
Realize your pump supplier may only be able to do so much. It's important your supplier knows when they need to call in extra help, or when a job cannot be done, either because of performance, availability or manpower issues. Your vendor should immediately communicate with you if any of these crop up.
For example, on the project cited above, in order to provide piping for the emergency project, we would have to consider dismantling a portion of our already installed discharge line. This would have resulted in additional time in order to dismantle and then re-assemble, limiting our ability to meet the primary requirement for immediate set-up. Our project team brainstormed with the contractor and determined that if we could find new pipe locally, we could better meet the need for immediate response. By addressing the limitation, we were able to partner with the contractor to find the items needed locally and mobilize within a few hours.
It is important whether the job is a planned or emergency project to be able to work through the problems and identify the solutions. For many of us, the thing we love in the construction industry is dealing with the daily challenges of problem-solving and making things work.
As part of each opportunity to solve a problem, it is important for vendors to:
1. Be responsive – Listen to the needs, discuss the plan and execute.
2. Be flexible – Emergencies don't happen when we would like them to and projects don't always go as planned.
3. Be creative – Look at the solutions to combine the technical and practical and often a unique approach may come out of it.
4. Be prepared – Using the motto of the Boy Scouts of America, the more you can look at any project and identify the what-ifs, the better you can respond.
5. Be confident and calm – Take a deep breath and remember if you have looked at the situation together and planned right, the outcome can only be positive.
When an emergency job happens, the pump supplier is part of solving the emergency in a timely manner so we can all move on to the next one.
PENETRATE MOST SURFACES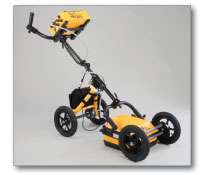 The Seeker SPR from US Radar is an easy-to-operate, sub-surface penetrating radar system able to infiltrate numerous surfaces such as soil, clay, concrete and brick. The Seeker integrates a complete imaging system into one portable unit. The system features an internal memory with data storage capacity of more than 50,000 lineal feet. For convenience, data may be viewed immediately on the large, bright screen. The Seeker is a Windows-based operating system and includes basic acquisition software.
Visit EquipmentWorld.com/info
CHOICE OF CONFIGURATIONS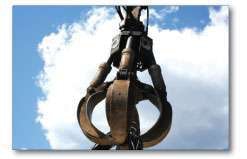 The Rotobec OP Series orange peel grapple is available in four- and five-tine configurations. The four-tine model range offers two jaw close kits. All of the OP Series orange peels feature an integrated cylinder guard and stop design. Magnet shackles come standard on all of the grapples and a wide range of Maggrab OP Series grapples is also available.
Visit EquipmentWorld.com/info
The TLB-6235 is Allmand's first compact backhoe featuring four-wheel drive. The TLB-6235 has a 6,000-pound bucket digging force, a 9-foot-10-inch dig depth, a dual-cylinder and 180-degree hydraulic cushioned swing. The four-wheel-drive system functions through a hydrostatic transmission. Allmand's Extended Service Life backhoe design features oversized pins with composite bearings and urethane lip seals in all working joints. This design reduces friction and extends service intervals by eliminating metal-to-metal contact, retaining grease and keeping out debris.
Visit EquipmentWorld.com/info
Little Beaver's line of MDL Mechanical Earth Drills offers a safe and productive solution for one-man hole digging applications. Featuring a 360-rpm operating speed, the drills produce clean holes quickly, while the compact design allows access to areas unreachable by skid steer-mounted augers. The MDL drills feature a steel torque tube, allowing operators the ability to use large diameter augers without fear of kickback.
Visit EquipmentWorld.com/info
Mattracks rubber track conversions provide mobility and traction in mud, sand, snow, swamp, rocks and on hard surfaces. Conversions allow drivers to travel over any terrain with ease, causing less impact on the vehicle and the environment. The rubber track system can be used on most four-wheel-drive vehicles from ATVs to trucks up to 20,500 pounds.
Visit EquipmentWorld.com/info
Diversified Products' quick-attach man baskets add versatility to digger derricks, allowing them to be used for more tasks and eliminating the need to bring other access equipment to the jobsite. The man baskets offer fall arrest and fall protection, and they provide safer alternatives to climbing on structures. The company's man baskets attach to any digger derrick boom that meets ANSI standard A10.31. The specialized adapter pins to existing holes in the end of the boom.
Visit EquipmentWorld.com/info
TOWABLE UNIT REQUIRES NO TRAILER
Innovative Equipment's TMX Towable Mini-Excavators feature a quick-on and quick-off hitch system and can be hooked behind a standard 1/2-ton pick-up, van or light-duty tow vehicle with no trailer needed. The TMX units eliminate tracks by using zero-turn technology. Weighing 2,941 pounds, the TMX features an 8-foot digging depth and offers a minimum of 21 percent more digging force than similar sized competitive excavators, according to the company. The TMX also has a 72-inch, 4-way blade system for efficient backfilling and grading.
Visit EquipmentWorld.com/info
E-Z Drill's Model 20 allows companies to pinpoint the site of a gas leak without tearing out a significant stretch of roadway. While specialized for the gas industry, the Model 20 UTL can handle virtually any type of vertical drilling application. Designed for maneuverability, the Model 20 UTL weighs 207 pounds and is supported by a 29-inch wheel base. The ergonomic design helps reduce many back injuries associated with hand drilling.
Visit EquipmentWorld.com/info
WORK EFFICIENTLY AROUND UTILITY LINES
The Vacall AllExcavate is designed for efficient hydro excavation around utility lines and sewers. The chassis engine powers the water pressure and vacuum forces, eliminating the need for an extra engine and related emissions, service and fuel costs. Aluminum water tanks and optional galvanized steel debris tanks offer durability.
Visit EquipmentWorld.com/info
Subaru's ER12 Rammer Engine has specially designed components and overhead cam technology. The 3-horsepower, four-stroke engine is lightweight, yet rugged and powerful. Weighing 20 pounds, the ER12 offers more power and up to 24 percent more output than similar competitive engines, according to the company.
Visit EquipmentWorld.com/info
The Bor-It Model 60 Destroyer's 176-horsepower diesel engine with five-speed transmission offers a maximum torque output of 259,018 foot-pounds with a normal thrust of 1,206,374 pounds. The Model 60 Destroyer bores a diameter range of 24 through 60 inches and provides extra power for rugged boring applications.
Visit EquipmentWorld.com/info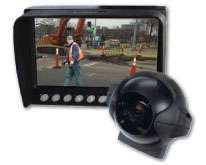 ELIMINATE BLIND SPOTS IN ANY LIGHT
RMT Equipment's Track-Vision safety camera systems deliver 360 degrees of clear vision. The rugged design ensures 24/7 dependability in severe-duty environments. The waterproof wide-angle camera provides excavator and wheel loader operators with a 115-degree field of view in any direction to eliminate blind spots to the front, rear, sides and over the wall. Viewed through Track-Vision's shockproof 7-inch high-resolution LCD monitor, the Track-Vision provides image clarity even in low light. Each monitor allows the operator to view up to four cameras.
Visit EquipmentWorld.com/info
Jet Company's hydraulic detachable gooseneck trailers are available in 35- and 51-ton-capacity models. The triple-axle trailers provide a 30-foot deck length while fabricated I-beams allow for optional 5.5-inch aluminum I-beam slide outs, and a variety of front and rear deck heights. There are several options available to specialize any Jet trailer.
Visit EquipmentWorld.com/info
The Air N Arc All-in-One Power System from Vanair combines a 300-amp compact welder, battery booster, air compressor and a 7,000-watt generator in a single unit. Equipped with a true two-generator system, the Air N Arc 300 delivers safe multi-function of electrical tools, plus all the benefits of a high frequency welder. The Air N Arc 300 mounts into a standard service body without modifications for easy access to controls. The control panel can be remotely mounted in a side compartment for user convenience and productivity. Designed for maximum fuel efficiency, the Air N Arc 300 is available in both gas and diesel versions.
Visit EquipmentWorld.com/info
Peterson's 5900EL disc chipper features an 11-foot feed deck, PT Tech hydraulic clutch, direct drive for the internal feed rolls, a totally enclosed Caterpillar C18 engine and is Tier 4 ready. The 5900EL produces high quality paper chips when paired with a Peterson model 4800 debarker or fuel chips as a stand-alone fuel wood chipper. The 5900EL has a large feed throat capable of accepting up to a 23-inch diameter tree or multiple smaller diameter stems.
Visit EquipmentWorld.com/info
Experience efficient pipe cutting with the Blount International's PowerGrit Utility Saw Chain. The saw's PowerGrit technology requires less access to cut pipe in the ground, thereby eliminating the need to excavate all the way around a ductile iron water pipe and crawl underneath to complete a cut. An operator using PowerGrit chain is able to get in and out of the job faster, easier and safer.
Visit EquipmentWorld.com/info
The Easy Locator ground penetrating radar system from Mala locates buried objects such as non-metallic and non-conductive utilities. The Easy Locator helps to detect and locate utilities such as PVC water and gas lines, ductile iron, concrete, terracotta or other conflicts. The interface is easy to use and the user needs to provide minimal input to begin measurements. Interchangeable antennas are available for shallow or medium depth situations where most utilities are installed. Mala's Rough Terrain Cart is available for off-road applications as well.
Visit EquipmentWorld.com/info
Thompson Pump's Compact pump series comes with all the benefits of the popular Thompson Pump JSC series with the added benefits of a smaller compact size, lighter weight, fewer parts, less maintenance and lower price. The Thompson Compact pump is 35-percent smaller and 20-percent lighter but offers the same performance as a standard size pump with 24-hour run time fuel tank. The series includes the Enviroprime system, which keeps pumpage from discharging into the environment. The Compact series also includes an automatic start/stop and Silent Knight sound attenuation.
Visit EquipmentWorld.com/info
Felling Trailers' drill kit includes pump mount brackets, tank mounts, track stops, rod storage door, full-length ramp rod with ramp hold-up bar and mount and extra D-rings. The drill kit can be installed on either the left of right side and can be bolted or welded on. The kit supports tank over fender to increase deck width and was engineered for 500-gallon tank capacity. Additional drill rod storage under the tank is available. The drill kit can be painted to be brand-specific
Visit EquipmentWorld.com/info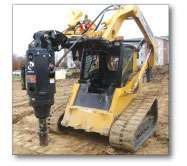 SUITABLE FOR RANGE OF MACHINES
Pengo's Revolution Series Drives includes drives for compact skid steers, compact digger derricks, compact excavators, skid-steer loaders, digger derricks, backhoes and excavators. The sizes range from the MS-100 to the RV-200. The design of the Revolution Drives offers a two-piece bail housing for easier customization, a cross-over pressure relief system to protect the drive and larger more efficient gearboxes. This series will be available in single speed, two speed and variable speed configurations.
Visit EquipmentWorld.com/info
Ditch Witch's 830R/T high-frequency electronic locating system provides performance at a high active frequency. One advantage of a high-frequency locator is its ability to trace poor conductors, such as ungrounded tracer wire, and locate short lengths of utility infrastructure better than low-frequency units. Numerous automatic features, such as gain control and visual and audio feedback make it easy to identify and trace metallic pipe or cable, water and gas distribution lines.
Visit EquipmentWorld.com/info
AlturnaMats' Turn-a-Links creates an instant portable roadway or working platform. The links connect to AlturnaMats' ground protection mats made of thick polyethylene. This link is made of the same steel material, but has a galvanized coating, making it easy to locate on a jobsite and protecting it from rust. Turn-A-Links are available in round single or doubles and flat single or doubles. Single Turn-A-Links lock mats end-to-end and double Turn-A-Links lock four mats together at corners.
Visit EquipmentWorld.com/info
Ajusta-Buckets' line of manual and hydraulic quick couplers provide fast, safe changeovers and reversing of buckets. The "Snap-Lock" latch design has front safety hooks that eliminate the need for pin removal and provide a tight connection that snaps into position. A separate safety pin ensures operator safety and prevents disconnection. Typical changeover time is less than one minute. Machine operators can easily reverse the function of the attachment by turning it 180 degrees and simply re-coupling it.
Visit EquipmentWorld.com/info
Alpine's rock-cutting attachments are available for excavators of all sizes. They are cost-effective and suited for deep, wide and short trenches. An alternative to hammers, they can cut trenches with smooth, vertical walls at 50-percent less excavation volume than hammers, according to Alpine. The grinder's small cuttings can be used for pipe bedding and backfill. The units are quiet, ensuring usefulness at night in urban areas.
Visit EquipmentWorld.com/info
Move material across level ground, down a slope or perform below-grade excavating with Miniveyor's lightweight conveyor sections. Constructed of aircraft grade anodized aluminum sides, a stainless steel slider bed top and bottom and a high-density foam core, the conveyors are strong and deploy in minutes. The conveyors use 110-volt power.
Visit EquipmentWorld.com/info
Bandag's BDR-HT3 tread is designed for LTL fleet customers operating single-axle tractors. Used in the drive axle position, BDR-HT3 incorporates an innovative tread compound and tread pattern that resists tears and boosts mileage while reducing wear. The bow tie-shaped tread block distributes torque forces evenly for reduced block stress, while the wider, buttressed shape design strengthens the block, helping it stand up to heavy torque and braking. The BDR-HT3 has an aggressive true open shoulder and a stable 28/32-inch tread design for traction.
Visit EquipmentWorld.com/info
ClearSpan Fabric Structures have a spacious interior with no internal support posts, allowing for maximum useable space. With minimal foundation requirements, these structures can be permanent or temporary, and are easy to relocate. Built from triple-galvanized structural steel and high-density polyethylene or vinyl fabric, every ClearSpan structure is custom engineered to meet local building requirements. The structures can be built up to 300 feet wide, at any length.
Visit EquipmentWorld.com/info
Rubbertrax's replacement rubber tracks fit a range of machines and may be customized to fit any job application and terrain. Providing traction and maneuverability, the tracks are made with continuous steel cords, embedded forged metal pieces, resistant rubber compounds, textile strips and a link balancing system. Additional benefits include reduced vibration and low noise.
Visit EquipmentWorld.com/info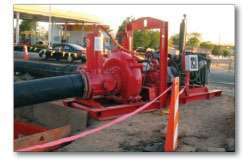 ELECTRIC OR DIESEL POWERED ENGINES
Griffin's Model 18 NCRD pumps are capable of delivering flows exceeding 17,000 gallons per minute and providing head capacities of 240 feet or more. Griffin non-clog pumps are suited for sewer bypasses, flood control or any other application requiring high volume and the ability to move trash-laden runoff. Available with electric or diesel powered engines.
Visit EquipmentWorld.com/info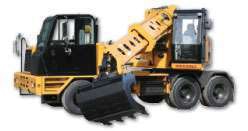 TILTING BOOM PROVIDES VERSATILITY
Gradall Series IV excavators feature a telescoping, tilting boom that precisely positions attachments for mass excavation as well as grading, trimming trees, dredging canals and cleaning up. The boom design also enables work under bridges and trees where conventional excavators cannot work. In addition, Series IV excavators are capable of highway travel and feature Tier 4 Interim engines and automatic transmissions.
Visit EquipmentWorld.com/info
The Trench-Mole from Porta-Mole makes it easy to install services under paved surfaces. The unit can be lowered down into the trench to the depth of the bore, making it possible to safely push the drill rods straight and level all the way to the entrance of the bore. Trench-Mole also core bores curbs and foundations.
Visit EquipmentWorld.com/info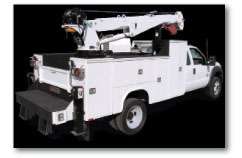 MECHANICS TRUCKS IN SEVERAL SIZES
Knapheide's work-ready mechanics trucks include the KMT-1 (7,000-pound-capacity crane), the KMT-2 (10,000-pound-capacity crane) and the KMT-3 (14,000-pound-capacity crane). The trucks are available in 11-, 13- and 14-foot body lengths and include features such as the torque-isolator crane support system for stability and full immersion in Knapheide's electro-deposition prime paint system for corrosion resistance.
Visit EquipmentWorld.com/info
Protect workers and improve productivity with steel or aluminum trench shields and shoring from Griswold Machine and Engineering. GME's products are portable, offer easy setup and are simple to use, ensuring usefulness in emergency utility repair situations. All shields and shoring in the GME line meet OSHA requirements for trench protection products.
Visit EquipmentWorld.com/info
Case Construction's N Series backhoes provide lift capabilities comparable to an 8-ton excavator while delivering increases in breakout force and reach over previous models. The series features Case's Power Lift, which channels hydraulic power directly to the backhoe boom with a touch of a button, and features new loader arms for faster truck loading and an ability to handle increased payloads. The series – which includes the 580N, 580 Super N, 580 Super N Wide Track and 590 Super N – has a side lighting package that helps illuminate the entire perimeter of the machine.
Visit EquipmentWorld.com/info
Dig deeper in tight locations with Danuser's EP Heavy Duty Auger Series, which features a compact housing design and hoses routed out the top. The series is available in units ranging from 1,014 to 2,811 foot-pounds of torque and 6 to 30 gpm. The auger's planetary design has fewer internal components that are sealed and run in oil. The unit also features a 2-inch hex output shaft, a utility style housing with integrated ears and tapered roller bearings.
Visit EquipmentWorld.com/info
Vacuworx's MC 3 "Mini" lifter is self-contained, enabling attachments to a range of machines including excavators, wheel loaders, cranes and more. The lifter weighs just 900 pounds but handles up to 3 tons in capacity, and will accept any type of pipe or slab such as concrete, steel or poly. The unit has a wireless remote control system with fail safe features.
Visit EquipmentWorld.com/info
Save money on paving concrete roads with E2 Systems's Portable Modular Conveyor-Material Placer (PMC). The PMC reduces both operation and maintenance expenses by offering users portability and ease of use. It is designed to attach to any front-end wheel loader of a 3-cubic-yard capacity or larger that accepts attachments. The compact unit is operated from inside the cab and weighs 10,000 pounds. The speed and power of the belt is related to the size of the loader.
Visit EquipmentWorld.com/info