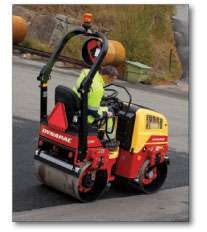 BIG FEATURES
Simplify small scale compaction work with Dynapac's CC Series 1.6-ton tandem rollers. Available in three models – the CC800, CC900 and CC1000 – the series has drum widths of 31, 35 and 39 inches and are equipped with water-cooled, three-cylinder 23.5-horsepower Perkins diesel engines. Standard features include propulsion and vibration on both drums and a switch to turn off vibration on the front drum. Equipped with a 50-gallon water tank and the Wutomatic Water Control System to extend intervals between refills, the CC Series has a self-draining sprinkler tube and nozzles to reduce ice plugs in cold weather.
Visit EquipmentWorld.com/info
EDITOR'S PICK
Increase power while reducing fuel consumption with Komatsu America's PC290LC-10 hydraulic excavator. The model has a Tier 4 Interim 196-horsepower engine that uses an electronic control system to manage airflow rate, fuel injection, combustion parameters and aftertreatment functions to boost performance. The unit's hydraulically actuated variable geometry turbocharger and exhaust gas recirculation valve offer enhanced precision and air management, as well as extended component life. The excavator's closed center load-sensing hydraulic system uses variable speed matching, enabling the engine speed to adjust based on the application. The model is equipped with the Komtrax fleet monitoring system, which tracks hours, locations, cautions, maintenance alerts and more. This information is then relayed wirelessly to a web application for analysis. Five working modes – Power, Economy, Heavy Lift, Breaker and Attachment – are selectable via a 7-inch high resolution LCD monitor that also delivers information such as fuel consumption history.
Additional features:
• Boom and arm design provides additional digging reach over previous model
• Cab viscous damper mounts for low vibration levels
• 70 dB(A) interior cab decibel level
• Integrated DPF does not interfere with daily operation
• Rearview camera
Visit EquipmentWorld.com/info
Haul heavier equipment such as wheel loaders and off road trucks with XL Specialized Trailers' 13-axle lightweight XL MG 170 West Coast trailer. Weighing 57,440 pounds, the XL MG 170 hauls loads up to 170,000 pounds distributed. The main trailer has a 118-inch flip neck that extends a 14-foot 3-inch main neck, and the 30-foot main deck has a 15-foot T-deck design that can be switched out to other deck configurations. The main deck has a 26-inch loaded deck height with 6-inch ground clearance, and the 21-foot rear deck has a 44-inch loaded deck height. Features included disc brakes with spring brakes on all axles, a 12-volt sealed Grote electrical system and a 3-LED taillight assembly.
Visit EquipmentWorld.com/info
Replace the rubber tracks on your Bobcat compact track loaders and compact excavators with the EarthForce series, available in tread designs for a range of applications. The tracks have continuous belting technology, forged and heat-treated steel links and rubber compounds that boost performance. In addition to providing traction, the tread design helps prevent lug cracking damage.
Visit EquipmentWorld.com/info
Restore asphalt and concrete surfaces to the correct level with the 40-inch Edge Cold Planer from CEAttachments, which delivers a smooth, precise cut. Designed for high flow skid steers, the planer has an electric control box in the cab to operate the hydraulic side-shift 3 inches to the left or 22 inches to the right. The attachment is capable of a +/- 8-degree tilt and up to a 5-inch milling depth.
Additional features:
• Removable right side wheel assembly
• Two depth gauges on either side of drum housing
• Easy-open access door for drum maintenance
Visit EquipmentWorld.com/info
Charge batteries during peak demand times with Next Generation Power's DC Power Unit. Available in 12-, 24- and 48-volt configurations, the units have either a two-cylinder, 12-horsepower or three-cylinder, 18-horsepower Kubota diesel engine. The power units use a self-tensioning belt to minimize vibration and reduce wear and tear. Automatic start/stop panel, safety shutdown and oil pressure and water temperature gauges are standard; options include a remote or mounted radiator and extended sump oil pans.
Visit EquipmentWorld.com/info
Simplify material placement with Absolute E-Z Up's Rocker, a lift attachment that allows one-person positioning of materials such as tiles and drywall. The Rocker has a lightweight, electric-powered track and a detachable adjustable cradle that holds and lifts materials up to 89 pounds. The attachment activates from the platform with a push button, moving materials overhead via the track, enabling the worker to properly secure them in place. Designed for use on the CAWP-9.6 and the IAWP-7.3 lifts, the Rocker assembles quickly and can be easily removed for storage.
Visit EquipmentWorld.com/info
Experience productivity in extreme conditions with Terex's TA250 articulated truck, which has a high capacity cooling system designed for hauler applications. The turbocharged 365-horsepower Cummins engine offers a high power-to-weight ratio, and the fully automatic ZF transmission has manual override and a maximum torque of 1,234 foot-pounds at 1,400 pounds operating weight. The TA250 offers a 27.5-ton maximum payload capacity and a 20.3-cubic-yard heaped capacity, features six forward and three reverse gears and has a 31-mph travel speed. With three axles in permanent all-wheel drive equipped with 100-percent cross-axle lockup, the TA250 handles challenging grades.
Visit EquipmentWorld.com/info
Cut more while moving around the jobsite with Hilti's SCW 18-A CPC cordless circular saw, which includes the Cordless Power Care battery system to boost the number of cuts per charge. The saw has a base plate and air flow management design that delivers smoother operation while ripping 8-foot plywood. Additional features include easy-to-read marking, simple adjustments and an electric blade brake.
Visit EquipmentWorld.com/info
Lengthen the life of your tires with the Tire Runout Gauge from K-Line Industries, which measures both radial and lateral tire runout conditions. The gauge uses a roller wheel placed against the tire tread in combination with a gauge bar, individual low and high spot sliders and a magnified measurement readout that shows the amount of runout present.
The gauge can help pinpoint problems such as bent or cocked rims, improperly adjusted wheel bearings, improper tire bead seating, tire flat spots and more.
Visit EquipmentWorld.com/info
Move your phone mounts from truck to truck with the Cobra Universal Device Mounts from Aries Manufacturing. The unit's Ever-Last BreakAway Adhesive holds the device tightly and never loses stickiness, even when you switch devices. The Universal Mini Mount handles any smartphone, GPS or MP3 device and features a sticky footed base in addition to the Ever-Last BreakAway Adhesive device mounting area.
To view a short video on this product, point your smartphone at the tag and follow the instructions.
Visit EquipmentWorld.com/info
Extend the life of off-highway engines and equipment with Valvoline's UltraMax lubricant line, which includes engine oils, gear oils, transmission fluids and high performance hydraulic oils. Designed to reduce costs, inventory and downtime, UltraMax offers improved friction, durability and prolonged fluid life. By retaining optimal operation over the life of the fluid, UltraMax minimizes wear to help prolong the life of the part.
Visit EquipmentWorld.com/info
Eliminate guesswork in asphalt paving operations with Trimble's CCS900 Compaction Control System for asphalt compactors. The system provides visual indicators the operator can use to roll a more efficient pattern, achieving a consistently compacted surface. The CCS900 includes real time temperature maps, pass count maps and verifiable as-built information. Optional IS310 infrared sensors can be used to measure the temperature of the mat at compaction, and the entry-level pass count system can be used across multiple asphalt compactors.
Visit EquipmentWorld.com/info
Move large amounts of snow quickly with Pro-Tech's Sno Blower skid steer attachment. The Sno Blower is available in two models – the BL72S, which is 74.5 inches wide by 38.5 inches high, and the BL78S, which is 38.5 inches high by 80.5 inches wide. Both models have a 20-inch-diameter fan, 14-inch-diameter auger and a 40-foot maximum throwing distance. The attachments feature direct-drive hydraulic motors, 270-degree hydraulic chute rotation, mechanical deflector controls and adjustable velocity control plates. Universal coupler mounts ensure the Sno Blower attaches to any skid steer.
Visit EquipmentWorld.com/info