By Amy Materson
PORTABLE PLASMA CUTTER
Experience portability when plasma cutting with Miller Electric's Spectrum 875 Auto-Line plasma cutter, which offers technology that enables the unit to be used anywhere with no physical linking mechanism. The 56-pound unit cuts 1 1/4-inch-thick metal at a rated 10 inches per minute, and also recognizes and adjusts to any input voltage between 208 and 575, single- or three-phase power and 50 or 60 Hz. The Spectrum 875 also operates on generator power during power tool use without being affected by power fluctuations. Auto-Refire technology keeps the pilot arc lit during multiple cuts, eliminating manual retriggering and reducing hand fatigue.
Visit EquipmentWorld.com/info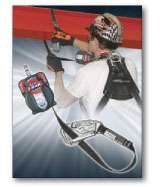 USER-FRIENDLY FALL PROTECTION
Improve safety on the jobsite with Miller Fall Protection's Turbo T-BAK Personal Fall Limiter, a self retracting lifeline that tie-backs anywhere along the lifeline. The T-BAK has a 7 1/2-foot working capacity, includes the Miller 5K locking snap hook and has a web lifeline that extends and retracts smoothly. The all-in-one design meets the ANSI Z359.1 standard that requires 24 inches or less of lifeline to extend out of the housing when the unit is retracted.
Visit EquipmentWorld.com/info
EDITOR'S PICK
COMPACT CHIPPER
Easily handle any type of landclearing operation with Bandit's Model 2290 Track, a whole tree chipper designed for steep inclines and soft terrain. Featuring a Caterpillar 315L undercarriage, the Model 2290 Track has just 6.3 pounds per square inch of ground pressure.
A variety of engines up to 440 horsepower are available, and the Model 2290 Track can produce more than 50 tons of chips per hour. Available options include a larger Caterpillar 320L undercarriage, and a 5 1/2-inch infeed conveyor for loading piles of brush or shorter logs.
Quick specs:
• 20-inch-diameter capacity with 30-inch weld-on tray
• 24 ½- by 26 ¼-inch chipper opening
• High capacity stationary discharge system
Visit EquipmentWorld.com/info
Low profile
Simplify dumping and snow removal applications with the DuraClass Sidewinder dump body, which features a 3- to 4-yard capacity suitable for medium duty trucks. The compact size provides maneuverability in urban settings and on narrow roads. The Sidewinder delivers salt or sand to the rear tires via a conveyor system for improved traction when traveling on hilly terrain or in inclement weather. A low profile provides clearance for bridges or power lines.
Visit EquipmentWorld.com/info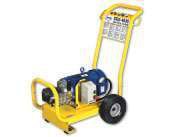 CLEANING MACHINE
Perform pressure washing jobs in enclosed areas with Steam Jenny's electric powered cold pressure washers, which feature 1.5 to 10 horsepower Marathon or Baldor motors. Available with either single-phase GFCI or three-phase power requirements, the units have pressure ratings between 1,000 and 4,000 psi and 1.5- to 4.8-gpm flow rates. Industrial-grade triplex ceramic plunger pumps extend the life of the washer, and flat-free pneumatic tires improve portability.
Visit EquipmentWorld.com/info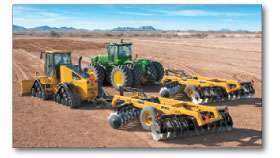 DURABLE DISKS
Cut into compacted soil more easily with John Deere's Frontier Series offset disks for dozers and scraper tractors. Useful for preparing roadways and jobsites, the tow-behind units have two separate control arms for transport leveling and for leveling while the disk is on the ground. Adjustable scrapers keep the blades clean, and a Pintle hitch swivels to prevent hitch binding.
Sizes available:
• DH54C Series – 10- to 14-foot widths; 30-inch-diameter blades; 583 pounds of cutting force per blade
• DH55C Series – 10- to 13-foot widths; 32-inch-diameter blades; up to 639 pounds of cutting force per blade
• DH56C Series – 10- to 14-foot widths; 36-inch-diameter blades; up to 868 pounds of cutting force per blade.
Visit EquipmentWorld.com/info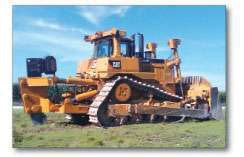 ROCK RIPPER
Cut through hard material such as compacted soil, shale, limestone rock and coal with Bron's 4000 Vibratory Ripper, designed for dozers up to 200,000 pounds. The vertical mounted shaker creates a hammer chisel with the single blade for improved ripping operations. The direct pin-on attachment eliminates the need for extra counterweights by keeping the dozer balanced when pushing material. Fabricated from high strength steel, the Bron 4000 provides high wear resistance from abrasion.
Visit EquipmentWorld.com/info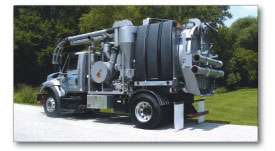 POWERFUL PERFORMANCE
Work on confined sites and in other hard-to-reach places with Super Products' Mud Dog 650 hydro excavator, which has a 6.5-cubic-yard debris dump body. An 8-inch positive displacement vacuum system provides a 3,600-cfm air flow for thorough debris cleanup, and the 10 gpm at 2,500 psi water pressure enhances digging performance. The Mud Dog 650 has a 500-gallon fresh water tank, a single engine design to lower fuel costs and simplify maintenance and a simple control panel setup.
Visit EquipmentWorld.com/info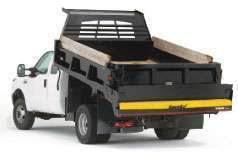 SPREAD OPTION
Simplify spreading bulk salt or coarse sand with SnowEx's SP-2200 and SP2200-H under-tailgate options for dump bodies. Rather than replacing the gate, the included mounting kit allows you to install the spreader underneath the rear gate. The spreaders are available in either electric or hydraulic models which accommodate raising and lowering of dump beds through a self-leveling feature that keeps the spinner parallel with the ground. The spreaders offer a consistent flow of material to the spinner, and an attached vibrator minimizes clumping. Variable speed controllers independently adjust the auger and spinner speeds, and a clean-out tray clears material after use.
Visit EquipmentWorld.com/info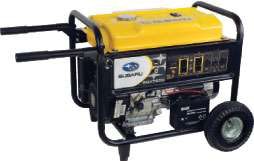 VERSATILE UNIT
Work for hours with Subaru's SGX7500E generator, which offers a 7-hour continuous run time at rated load, with an 8-gallon-capacity fuel tank. The SGX7500E has a 14-horsepower EX40 overhead cam engine for a 7,300-watt maximum output, and includes an electric starting system with recoil backup. Constructed from heavy duty steel, the unit has high performance copper windings with maximum surge capacity. An automatic voltage regulator system provides precise voltage control output, and a low oil level sensor features automatic shut-off.
Visit EquipmentWorld.com/info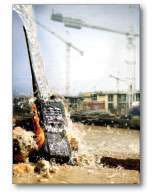 TOUGH TWO-WAY
Minimize the impact of water, dust and drops with the HYT TC-610 Mudder radio from HYT America. The two-way radio meets IP-66 standards for dirt resistance and water protection, and a double injection molded case protects components if the unit is dropped. The radio is compliant with the 12.5 kHz/25 kHz channel spacing migration initiative, allowing a shift to new equipment from legacy radios. A 2,000 mAh Li-Ion battery powers the unit.
Visit EquipmentWorld.com/info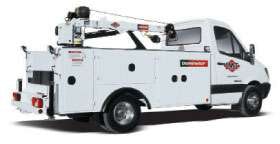 DOWNSIZED DOMINATOR
Iowa Mold Tooling now offers a compact, fuel efficient version of the Dominator mechanics truck, the DSC12, which can be built on any 10,500-GVW chassis. Designed for customers who need a truck that maneuvers easily in tight environments, the DSC12 weighs just 1,700 pounds and has an integrated crane structure capable of handling a 12,000-foot-pound telescopic crane.
Key features:
• Improved tools and parts access
• Three-point door latches
• Single-hand tailgate operation
• Shelf hanger bracket system.
Visit EquipmentWorld.com/info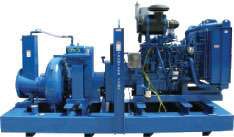 MINIMAL MAINTENANCE
Experience lower maintenance and operating costs with Thompson Pump's Oil-less Vacuum Technology Series priming system, which eliminates the need for recirculating oil and requires service only once every 20,000 hours. Suitable for a range of applications from dewatering to sewer bypassing, the OVT is air cooled with no water levels to check and is tolerant to accidental liquid carryover.
Details:
• Works with any Thompson centrifugal pump
• 97-cfm air handling
• 28.4-inch Hg suction lifts
• No sealing or lubrication oil eliminates
pollution and smoke
Visit EquipmentWorld.com/info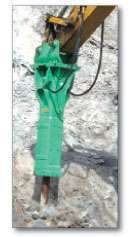 BOOST BREAKER PRODUCTIVITY
Achieve higher energy per blow with Tramac's V4500 heavy breaker, suitable for carriers weighing between 99,200 and 176,400 pounds. The breaker features blank-firing protection for increased tool life, a pressure regulator valve that prevents accidental overflow and reinforced suspension that absorbs vibration. An automatic pressure regulator ensures constant operation while an automatic greasing system prevents heat damage.
Quick specs:
• Impact class – 13,000 ft. lbs.
• Operating breaker weight – 9,921 lbs.
• Tool diameter – 7.5 in.
• Tool working length – 29.7 in.
• Operating pressure – 2,683 psi
• Striking rate – 500-700 bpm
Visit EquipmentWorld.com/info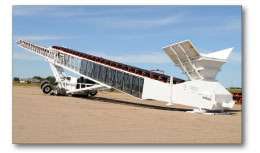 CONVENIENT CONVEYOR
Move loads faster with Superior Industries' low profile TeleStacker conveyor, which has a low level loading hopper for fast transfer of material. The telescoping radial stacking conveyor also reduces space requirements. The FD axle assembly features hydraulically operated stacking wheels to ensure quick transition times. Conveyor capacities range from 500 to 5,000 TPH.
Available in the following lengths:
110', 130', 150', 170' and 190' models
136' and 158' low profile models
Visit EquipmentWorld.com/info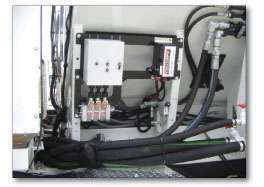 FLOW CONTROL
Precisely adjust the controls when mixing concrete with Cemen Tech's electronically controlled Timer Cube. Featured as standard equipment on all Cemen Tech mobile concrete mixers, the cube controls the duration of vibrators, enabling the operator to select the precise amount of vibration required for a continuous and consistent aggregate flow.
Visit EquipmentWorld.com/info