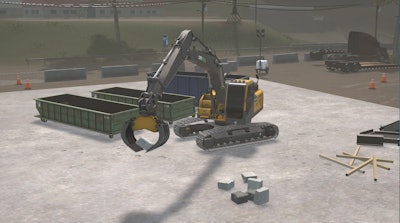 CM Labs Simulation
CM Labs Simulations, located in the ConExpo 2023 North Hall Booth N11563, will unveil its new Grapple Tool, 360-degree Tiltrotator, Digger Derrick and Telehandler simulator training packs at the show, held March 14-18 in Las Vegas.
The training packs are designed to be used with CM Labs' fully immersive Vortex Advantage simulator, entry-level motion-enabled Vortex Edge Max or desktop Vortex Edge Plus to address workforce and productivity issues in the construction, infrastructure and utility markets.
(You can see more of what OEMs have in store for ConExpo 2023 in our show preview page by clicking here.)
"Now, more than ever before, CM Labs' customers need the best possible operator learning outcomes – quickly and safely," said Lisa Barbieri, VP of marketing and product management. "Our physics-based Smart Training technology and advanced reporting insights from our Instructor Operation Station (IOS) will future-proof training programs and recruitment needs."
With proprietary and patented algorithms, Smart Training Technology is embedded in the simulator to provide training based on real data and real machines to deliver operator skills that are transferrable to real equipment, the company says.
Here are the details on the new product launches:
The Grapple Tool and 360-degree Tiltrotator are new additions to the Excavator Training Pack.
The Grapple simulation helps users learn the basic control functions of this attachment, including how to sort and manipulate a wide range of materials.
The Tiltrotator Simulator function, which uses 360-degree rotation and side-to-side swivel with other excavator attachments, teaches precision grading techniques with the bucket. "This is great training support for roadbuilding and utility contractors," said Alan Limoges, CM Labs' construction product manager.
Various auger-drilling scenarios are highlighted in the new Digger Derrick Training Pack. Exercises include control familiarization, auger control, pole control and setting, as well as training support for the Electrical Industry Certifications Association (EICA) certification process.
Also making its debut is a Telehandler Training Pack, featuring a fixed, telescopic boom with forks and bucket attachments. Exercises offer various steering modes and load-handling activities.
CM Labs' full suite of earthmoving and lifting equipment simulation training products will be featured in 'simulation pods', managed by the IOS in the booth. The IOS enables trainers to monitor, assess and engage trainees from a single workstation.
New updates to the system allow remote instructor monitoring, live multi-user curriculum management, as well as new back-end reporting features. CM Labs' says the IOS supports trainers with objective insights on key metrics related to safety violations, fuel efficiency, cycle times, and managing excessive wear and tear on equipment.