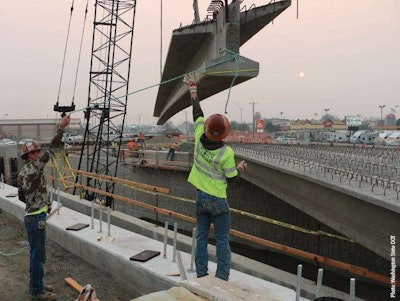 The U.S. construction industry started a new monthly streak in employment gains in May with the addition of 25,000 workers.
Construction now employs 7.21 million Americans, a workforce total the industry has not seen in nearly a decade.
May's gain follows an infusion of 21,000 workers in April, following a revision by the Labor Department to that month's total. Last month, the department reported a gain of 17,000 jobs.
Over the last 12 months, construction has added 286,000 jobs and the workforce total is up 4 percent over the May 2017 figure.
The industry's unemployment saw a big drop in May, falling 3.1 points from 6.5 percent to 4.4 percent, the lowest total in at least 10 years.
Total employment in the U.S. rose by 223,000 jobs in May while unemployment dropped to 3.8 percent.
---
Construction employment since January 2008