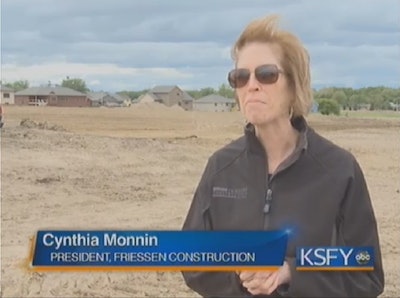 After seeing the results of a Pew Research survey saying 40 percent of U.S. moms are now the breadwinners in their households, news station KSFY out of Sioux Falls, South Dakota, did some digging and filed an interesting report about the number of women in the area now doing construction work.
KSFY talked to several women who have begun working in construction thanks to the recent housing boom in Sioux Falls. The report details the various ways in which these women made it into the industry and even how they use custom tools.
Pam Erickson, whose husband owns Can Do Excavating, said she began working with her husband recently after he saw a big uptick in business. "He got really busy, our kids were getting older, I was a stay at home mom for 12 years, and we decided he would get me a skid steer and I would go to work," she told KSFY.
"I usually dig out the dirt before he excavates and then the concrete guys come in and then I come in and fill dirt in around the walls."
Cynthia Monnin became President of Friessen Construction after her Father handed her the reins. Monnin loves the work and said her father's decision has worked out well. She encourages other women to find work in the industry. "You can make some good money working in the construction field, whether you're an owner, an employee or a subcontractor, you can do well," Monnin said.
Constance Berg co-owns N Drywall and Construction with her husband Brian. She works with her own set of custom tools that fit her hands better than standard-sized tools. Her husband Brian says he appreciates having Constance work with him because unlike most men, she understands functional design.
"Its like doing crafts all day. You're doing measuring like when you're sewing, you measure, you fit, and that sort of thing. It's the same way with materials," she said of construction.
Be sure to read and watch KSFY's full report by clicking here.