Oftedal Construction
Editor's Note: This story was updated June 2, 2023.
The 36-year-old Cat D9L dozer came into the shop with its undercarriage worn out.
The engine and final drives had high hours on them. It had been working hard over the decades pushing Oftedal Construction's scrapers through the craggy terrain of Wyoming and nearby mountainous states.
Finding parts for the old D9Ls was not easy nor were they cheap. A cylinder block set the company back about $12,000 a couple of years ago.
It seemed the old workhorses might be getting too costly to keep in the fleet. Oftedal has nine of them and one it keeps for parts. The dozers have helped build the 57-year-old company, which is now employee-owned with 400 workers at the height of construction season. It has a fleet of 900 pieces of equipment. The earthmoving contractor works on a variety of projects, including highways, power plants and mine reclamation.
"If there's dirt to be moved, we can move it," Shop Manager Aaron Elrod says.
Many of the D9Ls were bought new, maintained and rebuilt over the years because they fit a special niche that no other machine can. Oftedal deploys them to push their fleet of single-engine Cat 631 scrapers. The newer D9R and D9T dozers aren't large enough to push them through the rocky ground, and the company's more powerful D10Rs are a pain to haul. They often require parts to be removed so they can meet the transport weight and size restrictions.
But not so the trusty D9Ls.
"We've always kind of favored those because they're so much easier to transport," says Elrod. "We can haul them in most of the states we work in one piece."
They also burn 15-20% less fuel than the D10Rs. "Fuel consumption is something that we watch really close," Elrod adds.
But to keep the old D9Ls a viable fleet member, the company had to come up with a new solution, one that would allow for rebuilds but not require lengthy and costly searches.
"For me, I didn't see hunting down antique engine blocks as being a viable way to move forward," Elrod says.
The birth of "Franken-Dozer"
Elrod has worked at Oftedal for 20 years, and up until two years ago, the company had always refurbished its cylinder blocks for its D9Ls through a local machine shop. Then one came in with a connecting-rod failure that ruined the cylinder block.
"A lot of these blocks are original to some of those machines," Elrod says. "So this was the first one, at least during my tenure, that I had to try to find and purchase outright. And I just couldn't believe what a used cylinder block for that older machine was going for."
They took the $12,000 hit for the cylinder block, but that set Elrod to watching the used-parts marketplace for a better option.
He noticed that Cat's 3412E engines, like those found in its D10R dozers and 657E scrapers, were going for less than $10,000. The hydraulically activated electronically controlled unit injector, or HEUI, engines would also be more fuel efficient and powerful.
But would they work as a replacement for the 36-year-old D9L's 500-horsepower mechanical engine?
Elrod and Lead Mechanic Austin Adsit began hours of research on Caterpillar's Service Information System.
"We knew the basic structure of the two engines were identical, so they would physically fit in the same frame," Elrod says. "And throughout our research, we found that the actual machine frames between a D9L and a D10R haven't really changed a whole lot."
They had a D10R at the shop and could see the mounts were in the same places. But would the torque converter bolt up and would there be enough room for the engine's huge aftercooler, which the D9L engines didn't have?
And there was still the question of replacing a mechanical engine with an electronic one. They gambled it would work.
Finding a "heart"
At a Ritchie Bros. auction in Los Angeles, they found a complete 3412E engine that had been in a 2004 Cat 657E scraper. They paid $8,000 for the engine – significantly less than $12,000 for just a single cylinder block.
The remaining parts, such as the front and rear covers for the engine, came from an early 2000s model D10R through Yellowstone Valley Parts in Billings, Montana.
"We had plenty of space," Elrod says, of the transplant engine and components. "Everything plugged in and bolted up quite easily as far as mounting goes."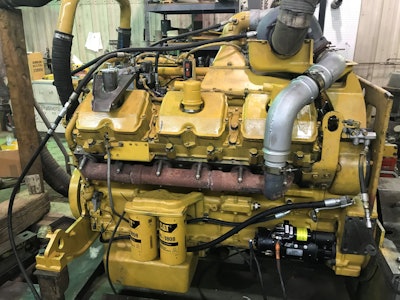 It helped that the D10R design hadn't changed much over the years. "Those D10R firewalls, cab platforms, frames, things like that, basically haven't changed since that machine was designed in the late '70s," he says.
The biggest challenge was building the wiring harness, installing new filter head assemblies and running the fuel lines, says Adsit.
"There was a lot of trial and error," Elrod says.
Much of the work was done first on paper. They also wanted to keep things simple for their field service and oil technicians, some of whom have been working on the D9Ls for 30 years.
"We wanted to make sure we put the filters back in the same location, make things look as original as possible," he says. "So it was, 'We'll build a hose. We'll try this and see if it fits.'"
They also made some modern upgrades to the undercarriage to solve a nagging problem on the D9Ls. The rear idlers over time would pull outward, Elrod says. The solution came with the D10R, which had three-bolt instead of two-bolt idler caps.
"So I worked with our local Cat dealer and their machine shop to design basically a retrofit bogey that would accept three-bolt idler caps," he says.
Along with some other undercarriage upgrades, "we basically tried to make the most trouble-free D9 undercarriage we could."
"Night and day"
The complete rebuild took six months, about twice as long as usual. But the result appears to have been worth it.
"This is the strongest and the most crisp operating D9 I've ever been exposed to," Elrod says. "I've worked here for 20 years and done a lot of rebuild on these machines myself, and I've never had one act like this."
He and Adsit conducted some tests on a dirt pile to compare it with another D9L in the fleet.
"The older one, when you go to push into the pile, you can feel it push, and then it starts to stall and just kind of dies," Adsit says. "With the new electronic engine, you do the same thing, you could start to feel it kind of stall, and then you could feel that torque range of that electronic engine just pull in and start to pull down. And as night and day, you could feel that newer engine just push and push and push and keep going, and it wouldn't stall."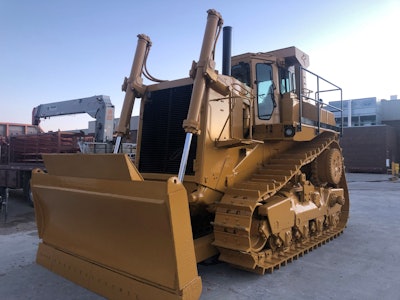 The newer engine was also producing much less black smoke. They ran some emissions tests with the shop's five-gas analyzer. It put out less emissions at full load stall in third gear than the old engine at idle.
The engine meets Tier 1 emissions standards and has no aftertreatment. They also expect it to save 10-15% in fuel costs.
"As soon as it torques up against whatever it's pushing, any hint of black smoke disappears, and it's all push," Elrod says. "Where those old tractors with that mechanical engine, they're pouring fuel to it whether it has the boost to support it or not."
(Check out the videos at the bottom of this story to see the comparison between the two dozers' performance.)
Franken-Dozer lives!
"A feeling of elation," Elrod says of seeing the old D9L come back to life.
"I think we helped our company quite a bit. We're going to have fuel savings big time. We're great on emissions. ...
"It was just an awesome feeling."
Elrod credits his company with having the confidence in the shop to allow the time and money to conduct the engine transplant and undercarriage rebuild, and for Cat dealer Wyoming Machinery for its assistance on engine software and other technical issues.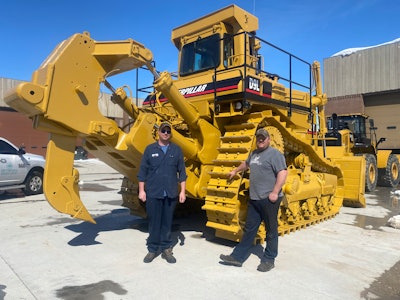 Elrod and Adsit believe it will be a model going forward to keep the old D9Ls pushing the company's scrapers for years to come. They plan to monitor it during this construction season to see how it performs.
They also expect the next such rebuild to take half the time. "We won't have to figure all this out as we go," Elrod says.
Unfortunately, the $450,000 cost of the rebuild put them overbudget. "But," he says, "we basically ended up with a brand new D9L cheaper than you could buy a brand new D10T; so hopefully, we're money ahead as far as that goes."
He laughs and then adds:
"We're thinking the next one will be cheaper. There's a lot of money that gets spent through a learning curve."
Besides that, it means the company may have a viable option to keep its beloved D9Ls alive.
"They sure seem to fit us like a glove," Elrod says.
Editor's Note: The technician crew at Oftedal reports that the rebuilt D9L is still going strong in 2023.
Check out these two videos from Oftedal Construction of the "Franken-Dozer" and a D9L dozer with mechanical engine. The first is a D9L with its mechanical engine:
Now here is the "Franken-Dozer" in action:
And here's a shot of the Oftedal shop's "Franken-Dozer" team: