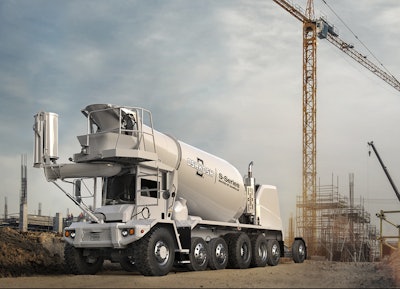 McNeilus Truck and Manufacturing has updated its Oshkosh S-Series front discharge concrete mixer with increased hauling capacity and several improvements that make the mixer easier and more comfortable to operate.
The cab has been expanded and made easier to get in and out of. It has a wider field of view with a full one-piece curved and bonded windshield with no side wing window seam.
Shock absorption has been increased to reduce vibrations on the driver. Ergonomics have been improved, and the company made the electrical systems easier to access. Components have been placed within driver field of view. The LED lights offer the driver a brighter, more focused light, the company says.
The truck has been made lighter to allow more concrete per load, which also reduces the number of trips to a job.
The steering is easier for tighter maneuvering, and the front axle consists of Oshkosk Defense military components for added durability.
McNeilus also gave the mixer Flex Controls for onboard diagnostics. The system is designed to improve the concrete mix and efficiency with consistent loading, mixing and pouring. Settings can be programmed to further increase consistency. Drivers can monitor the mixing on a screen. The system is controlled by touchscreen keys and an in-cab key pad. It also provides troubleshooting features, oil temperature and pressure readouts.
The company said it added improvements to lengthen the life of components and make them corrosion resistant, as well as easier to access.