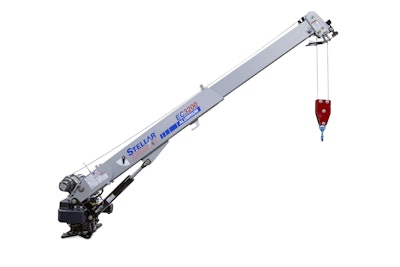 Weight is a key consideration in outfitting a service truck and Stellar Industries has found a way to save you a few pounds with its new EC3200 aluminum telescopic service crane, which debuted at the recent Work Truck Show.
The new all-electric crane is more than 30 percent lighter than its steel counterpart and weighs just 500 pounds. It offers 3,200 pounds of lifting capacity and 15 feet of horizontal reach. Rated at 11,500 foot-pounds the EC3200 is ideal for service bodies with crane reinforcement kits.
In addition to weight savings, the aluminum construction of the EC3200 offers good corrosion resistance and lower maintenance with a longer service life. The low profile design works well in confined areas. A robust gear bearing rotation system incorporates a high strength steel ball bearing turntable gear, steel worm gear and cast steel worm gear housing.
The planetary winch will continue to lift until the full rated capacity is reached. The crane's 410 degrees of rotation and an integrated rotation stop ensures maximum performance while also protecting wires and hoses from damage.