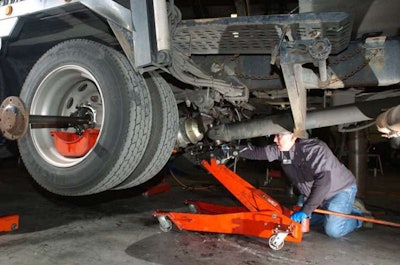 For the risk averse there's no more uncomfortable feeling than the day after a truck warranty expires. Meanwhile, buyers of used equipment may never feel the sense of relief that comes with not having to shoulder all the financial load of a major equipment failure.
Aftermarket warranties have become popular add-ons for used equipment and for extending coverage beyond a factory warranty expiration date but levels of coverage differ from standard factory warranties. While a manufacturer's warranty may cover everything from the powertrain to the radio, aftermarket warranties generally offer coverage for only critical elements.
"OEMs typically cover many more items, many of which don't ever fail and/or that are not expensive to replace," says Lynn Murphy, president and CEO of Premium 2000. "As much as I dislike this description, an OEM has 'bumper-to-bumper' responsibility for a prescribed term length. Aftermarket warranties typically cover expensive, game changing repairs; ones that can bankrupt a commercial truck owner."
Aftermarket warranties focus primarily on the engine, including aftertreatment, the transmission and rear axles since failure along the powertrain can be expensive in parts, labor and downtime.
"Most second life buyers are under-capitalized," adds Ted Fick, executive chairman of National Truck Protection. "They only have enough down-payment for a used truck and the last thing they can afford is to pay for a $20,000 engine repair. For a few hundred dollar deductible, you can prevent from being thrown into bankruptcy."
In most cases, any truck that passes a certification inspection by the underwriter is eligible for warranty coverage, but Fick says trucks older than 10 model years with more than 1 million miles would require a more thorough testing, which could include a visit to a dynamometer.
Underwriters also require an ECM download to check for any known faults, but if a truck doesn't pass inspection there is still a path to obtaining a warranty.
"Our inspection is very similar to what the OEM dealer is doing anyway," Fick says. "If there are issues, we ask that those be remedied before we put the warranty on that vehicle."
Getting the coverage is one thing, keeping it is another. Once the truck has passed inspection, ongoing maintenance is part of the policy. Policy holders are required to document each time the truck stops for service and those records can be used to support the validity of a warranty claim.
"Our warranty has specific maintenance requirements per the class of vehicle," says Lindsey Stroschein, executive director of customer and retailer services, TrüNorth Warranty Plans of North America. "Regular preventative maintenance at a licensed, certified facility is required in order to keep the warranty in place."
Under the terms of an aftermarket warranty, fleets are required to keep track of their PM receipts, making sure to include the VIN of the vehicle being serviced, date of service and mileage at time of service.
If PM mandates are not met, Murphy says a warranty claim can be denied and the truck's coverage could be voided.
"We don't monitor the PM process on an ongoing basis," he says. "We ask for records at time of claim. If the owner cannot produce the record that matches the PM mandates, the claim will be denied."
"If we pull the plug on the [oil] pan and it looks like jelly coming out of it because you haven't been changing the oil, then we're going to require oil change maintenance records," adds Chad Lucky, regional service director for National Truck Protection. "If you haven't been maintaining the truck properly, it will void your warranty."
Stroschein says customers are required to submit their PMs to the claims department for review as part of the claim itself, adding the company does make exceptions to its required maintenance for customers with five trucks or more.
"This is considered a fleet," she says. "Only in a fleet situation approved by TrüNorth is the customer allowed to do their own maintenance."
Truck Master President Jeff Dobish says Truck Master will allow policy holders to perform their own maintenance.
"In the rare event that we ask for maintenance records we will even accept invoices for purchasing the materials needed if the customer performs their own maintenance," he adds.
For fleets with their own repair facility, internal records will be accepted.
"There are very few claims that require us to ask for maintenance records," Dobish says.
When repair is needed, the only requirement of the policy holder is to use a licensed, ASE certified mechanic that is open to the general public.
"There is no in-network restrictions," adds Dobish. "We want our customers to use shops they trust and are comfortable with if possible."
Requiring only ASE certification, Fick says, provides a measure of professionalism that ensures quality repair work, but it also unlocks dealerships and aftermarket service providers coast-to-coast.
"This prevents inconvenience to the trucker suffering a breakdown," Murphy says of not steering policy holders to specific repair locations. "An OEM or network provider may be 50 to 100 miles or more away from the breakdown, but a qualified shop may be five miles away."
"Any OEM dealership is going to have ASE certified techs," Fick says, "and there are any number of independent repair shops that are largely ASE certified. That's kind of the standard."
Stroschein says the warranty does not dictate part type or show preference to brands. The underwriter simply wants the part that best fixes the problem long-term.
"We are open to the repair facility using OE parts and/or reman, refurbished or used parts," she says. "We need to be aware of the quality of parts going into the truck during the repair."
Dobish adds the availability to the part often dictates whether a part needs to be OEM or aftermarket.
"We prefer to use OEM parts whenever possible to take advantage of the nationwide OEM warranty for the parts," he says. "Considering the customers uptime is the most important factor when processing claims, we will do what is best for the customer and they are involved in the entire process so they know what we are doing at all times."
During the repair process, the protocol for an aftermarket warranty doesn't differ wildly from filing a claim with the OEM.
A repair facility or a customer should contact the underwriter either on the phone or file a claim through and online system where claims adjustors will review all the information submitted – including the estimate – and diagnostic information. Some policies require a photo of the failed part.
"[Adjustors] will be looking to make sure that the right parts are being used and that the repairs are being completed properly," Dobish says. "We always want to make sure the repair facility has not overlooked any progressive damage caused by the failure."
Once the underwriter confirms the failure and that the repairs are being completed properly, they will issue a written approval to the repair facility.
"As soon as the repairs are completed and the customer is happy with the work performed, we will pay [the shop] for the repairs with a credit card, ACH payment or a wire transfer immediately," Dobish says. "In rare occasions a customer will pay for a repair that is warrantable and submit the invoice and diagnostic data, if applicable, to us and we will reimburse them directly for the repair."
Unlike a manufacturer's warranty, which must be purchased at the time the truck is bought, an aftermarket warranty can be added at any point throughout the truck's lifecycle.
"You get one chance to buy an extended [OEM] warranty," Fick says, "whereas you can add an aftermarket warranty at any time."
Aftermarket policies can also be purchased for trucks nearing the end of their OEM warranty. If purchased before the OEM warranty lapses, the inspection process for the truck takes into account the warranty service history.
"Having an OEM warranty still on your truck helps you," Lucky says. "If you let it run out then it hurts you. You're going to have a little bit more tedious inspection process."
The policy can be set up to offer immediate coverage as soon as the OEM warranty expires.
"If the OEM warranty expires at the end of April, the aftermarket warranty would go into effect May 1 and pick up right where the OEM left off," Fick says. "There would be no gap in warranty coverage."