Generations ago, vocational trucks were about as basic as you could get; a steering wheel and three pedals.
Trucks that were meant to be battered on the jobsite got very few options not designed for moving payload, but the quest for driver retention and the trickle down of available technologies has begun to change how vocational trucks are spec'd for the job.
"Years ago, if you needed a truck you would go to the dealer and buy something on the lot," says Ralph Lo Priore, director of fleet assets and processes for Stoneway Concrete. "You rarely had a guy who would spec his own truck."
Customizing a truck, Lo Priore says, has helped the company cherry-pick the technologies it wanted to adopt that would most benefit its 85 mixers, 65 dumps and 20 tractors.
"We look at the weight savings seriously while considering the engine, axles and body," says Eli Carro, president of EAC Transport, adding his company prefers aluminum bodies but often compromises with steel due to upfront costs.
"The biggest thing I'm looking at is weight savings versus longevity," Lo Priore says, adding a decision years ago to go with a lighter dump body resulted in an accelerated replacement rate of the bodies themselves, negating any payload gains. "We're always trying to figure out what could be the possible payload and if we make it lighter; what is the balance ratio of longevity and your unladen weight."
Curtis Dorwart, Mack Trucks' vocational products marketing manager, says the continued growth of technology has made it possible for smaller engines to do the work of what used to be the domain of 15-liter engines, enabling the use of lighter engines that develop lots of power.
"A 13-liter engine, with the proper power band, can rival a 15-liter engine in many vocational truck applications," says Kenworth Chief Engineer Kevin Baney.
Lo Priore says he took advantage of weight-saving potential by switching from a 13 liter Paccar engine to an MX-11.
"That was a 400 pound savings by doing nothing," he says.
Charles Cook, Peterbilt's marketing manager for vocational products, says habits have shifted away from spec'ing the biggest and most powerful engine, with a preference to now find the right engine for the job.
"Customers realize the benefits and lower costs of spec'ing an engine that has the right horsepower and torque to get the job done," he says, "particularly if they're in weight-sensitive applications."
Weight savings aside, Cook says drivers are also looking for trucks to operate more quietly, allowing them to run for more extended periods.
"That's why more vocational customers are looking for smaller, lighter engines that run quieter and offer enhanced fuel economy," he says.
You down with AMT … and other vehicle automation?
With his concrete mixer and rock trucks often finding themselves fighting Seattle traffic en route to a jobsite, Lo Priore also has begun spec'ing Allison's 4700 automated transmission.
"I had a couple guys that wanted to quit [versus using the AMT]. Now the response is they don't want to shift, especially in the mixer industry," he says. "I'll never buy another clutch again. That was probably one of the smartest things I ever did [going with the Allison 4700]."
Dorwart adds he sees a bright future for AMTs like the Mack's mDrive HD thanks to weight savings, cost and improve fuel consumption.
"For many applications they make perfect sense," he says, "a great balance of features that opens the driver pool for those with less experience."
A decrease in demand for manual shifting prompted Ford to drop manual availability altogether across its truck lineup.
"We no longer offer manual transmissions in F-Series trucks because demand for manual transmissions has fallen to very low levels," says Mike Levine, Ford's Truck Communications Manager. "At the same time, we've improved the robustness and fuel efficiency of our automatic transmissions."
Year-to-date, Cook, says approximately half of Peterbilt's Class 8 conventional trucks – both vocational and on-highway – have been spec'd with an automated or automatic transmission.
"Two major factors driving this growth are improved fuel efficiency and improved driver comfort with less fatigue," he says. "Regarding the latter, the ease of operation with automated and automatic transmissions allows customers to recruit drivers from a larger pool."
David Hillman, vice president and general manger for Navistar's vocational lineup, noted the transmission isn't the only component getting a heavy dose of automation. The overall automation of the powertrain itself has emerged as a trend, he says.
"I believe the main reason behind [powertrain optimization] is for driver comfort, retention and recruitment," Hillman adds. "I think there certainly is some efficiency gains, but it's more an outcome than an input to the equation."
Mary Aufdemberg, director of product marketing for Freightliner Trucks, says she's seeing more optimization between the engine and transmission, as well as more electrical integration of complex body and truck electronics using features such as the SmartPlex multiplex electrical system.
Creature comfort spec'ing critical to driver retention
Electric windows and air conditioning used to be options on work trucks, but Lo Priore says the days of finding the kind of drivers willing to grind out a day in a hot and noisy cab are a thing of the past.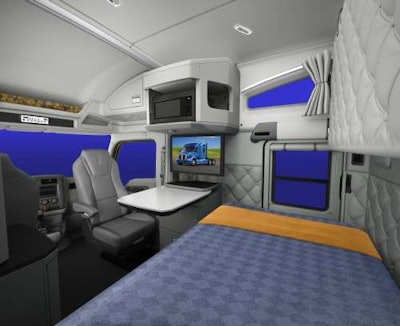 "We have heard from our customers that drivers are increasingly important in the decision about brand and specs of the truck, and that trend seems to be increasing," says Ann Demitruk, vice president of marketing for Western Star.
"You've only got one shot at ordering the truck and keeping the guy happy and keeping the driver," Lo Priore adds. "If you can keep the guy happy, you don't get grievances and it changes the whole morale of the drivers, the mechanics and everybody else. I feel the extra little money you spend [for options] is money well-spent."
Carro says, with his drivers spending all day in a cab hauling asphalt in the Florida heat, their comfort is a priority and Dorwart says keeping drivers comfortable behind the wheel is now a significant factor in spec'ing given the shortage of qualified drivers and the general aging of the labor pool.
"Spec'ing more comfortable seats, interiors and some nice accessories, along with an AMT, can really make things more pleasing and easier for the driver," he says.
"A comfortable operator is a more productive operator," Kenworth Marketing Manager Kurt Swihart says.
"Technology has made drivers more productive and efficient, and depending on the application and situation, some of the features can result in a better experience for the driver," Aufdemberg adds. "Vocational fleets are doing a lot to make the profession and driving a truck more appealing, and are looking for specs that will make drivers enthusiastic about their jobs and productive. Fleets are considering the evolving needs of their drivers, and now creating a comfortable work environment can impact driver recruitment and retention."
Many of the changes flowing through the work truck market are being influenced by light pickups, Hillman says.
"It wasn't that long ago that your pickup was just sort of a basic work tool," he says. "As those have become more and more laden with creature comforts, the expectation of drivers in a Class 8 vehicle lags a bit, but it kind of follows that. It wasn't uncommon not that long ago for a work truck to not have air conditions, but these days it's an expectation."
To Hillman's point, Levine says Ford designed its F-650/F-750 interior based on popular F-Series pickups and chassis cabs, adding the 6.7-liter Power Stroke V8 engine is 25 percent quieter inside the cabin at 60 mph than the previous model, with noise levels dropping to 68 decibels from 74 decibels.
"At idle, noise levels are improved as much as 45 percent, dropping to 48 decibels from 63 decibels," Levine says. "Comfort and technology – including fleet telematics – are more important than ever."
Telematics and the Internet have changed how trucks are spec'd
Beyond the powertrain, trucks have developed the capability to make some of the more menial decisions for the driver. For example, Hillman says Navistar's Diamond Logic electrical system can be programed to turn on the headlamps automatically when the windshield wipers are activated.
"Customers will rely more on telematics for route planning, to diagnose problems and to make service decisions," Aufdemberg adds.
Baney says drivers are increasingly looking for instantaneous feedback about the truck's operation.
"In the work zone, the driver needs to concentrate on the status of the payload, PTO, dump bed, and what's happening around the truck," he says. "The idea is to [provide] the driver the right information at the right time for enhanced productivity."
"It's an improvement of the human/machine interface," Hillman adds. "It's the way drivers work with the equipment to improve their productivity."
Cook says a good example of how technology has evolved and is proving to be indispensable is truck telematics.
"It is making a significant impact on fleet uptime and maintenance management," he says, "and its importance will continue to increase as the technology evolves with more functionality and further integration of more truck systems."
Baney says technology has also made the spec'ing and body building process more efficient. A generation ago the spec'ing process involved paper schematics and body-builder manuals couriered back and forth. Today, application engineers at the truck OEM work closely with the body builder to ensure that the chassis and body come together as expected.
"We're sharing 3D CAD models that show crossmember locations, PTO locations and clearances, special frame drilling patterns, and other air, electrical, and emissions equipment on the frame," he says. "We can help the customer visualize what their truck is going to look like right down to a fine level of detail before anyone drills the first hole."
Not to be underestimated in the change of spec'ing preferences is the information superhighway.
Lo Priore says, thanks to the internet, there's more information available than ever before and that it's so easy to find has put the customers in the driver's seat when it comes to getting what they want.
"Back in the day, you weren't able to reach out to these people efficiently," he says. "With technology the way it is, you can actually al a carte these trucks. Now, you have so many more tools to spec out a truck."
Aufdemberg adds today's vocational customer is also more in tune with how their business operates and is increasingly concerned how a truck will help their bottom line versus simply having the biggest truck on the jobsite.
"They are considering the real cost of ownership over the lifetime of their vehicles, and are thinking more holistically about the purchase and value-added specs," she says. "While the point of sale relationship is still important, customers today also have a higher level of expectation when it comes to parts and service."
"Fleets are starting to recognize the investment in safety technology. It's got a lot of value for their bottom line," Hillman adds. "[Customers] really have a handle on their revenues and their costs, and there is an appetite for approaches that enable them to be better."