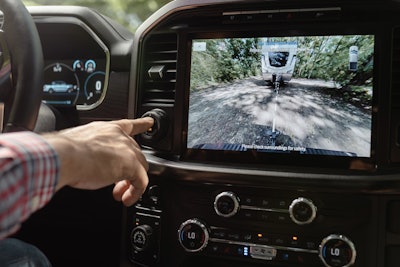 Ford
Ford introduced industry-first technology this week that leverages artificial intelligence to help make hitching a truck and trailer as easy as pushing a button. 
Pairing a truck and trailer can be tricky and often embarrassing if others are watching and waiting. Whether alone or with a spotter, lining up to hitch a trailer can be a tension-filled ordeal, trying to perfectly position the truck's hitch ball under the trailer hitch coupler, so the truck and trailer can be physically joined. 
Pro Trailer Hitch Assist helps take the frustration out of hitching up. It works by using the rear camera and corner radars to align the hitch with the trailer coupler while simultaneously controlling the truck's speed, steering and braking to stop at just the right place.  Pro Trailer Hitch Assist is now available for F-150, F-150 Lightning and the all-new F-Series Super Duty. 
To operate Pro Trailer Hitch Assist, the user pushes and holds a button while monitoring progress visible on the truck's large center screen display.
Pro Trailer Hitch Assist uses advanced machine learning technology to detect the hitch ball, trailer, and coupler at distances of up to approximately 20 feet.  
As the truck backs up to the trailer, the system figures out the best path to follow.
Computer vision is used to precisely detect both the hitch ball and trailer.
After the driver verifies the coupler is positioned higher than the hitch ball, the truck's control algorithms steer the truck, lining it up so the hitch ball can be positioned directly under the trailer's coupler.
The result is less time required to back up to a trailer. Ford reports that it even helps towing experts by reducing time lost to maneuvering mistakes. 
Ford collected a large volume of data to develop Pro Trailer Hitch Assist's machine learning algorithms to detect a broad variety of trailers of varied sizes and types on different terrain and in various weather conditions.
The system's ultrasonic reverse parking aid system alerts the driver in case an obstacle is detected during the maneuver.  
And future trailer image data can be used to make the system better over time through Ford Power-Up software updates. 
The Pro-Trailer Hitch Assist technology was developed in-house, by Ford's Advanced Driver Assistance Systems team. Over development, Ford received 60 patents.