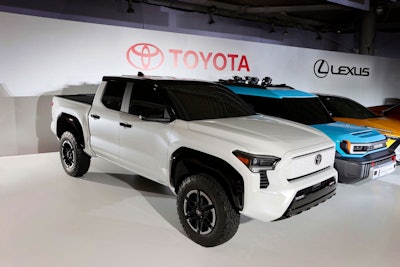 Toyota
Toyota has unveiled an all-electric pickup that looks to be a cross between the midsize Tacoma and full-size Tundra.
Toyota President Akio Toyoda revealed the truck along with several other all-electric Toyota and Lexus concept vehicles during a media event on battery EV strategies.
"We are living in a diversified world and in an era in which it is hard to predict the future," Toyoda said. "Therefore, it is difficult to make everyone happy with a one-size-fits-all option.
"That is why Toyota wants to prepare as many options as possible for our customers around the world."
The all-electric Toyota truck on display is a double-cab with a unique black roof. A dimpled grille sans air vents appears to hint at a spacious frunk. Two LED light bars crest the top of the bumper. No production date was given for the truck, and it's unclear if it will be equipped with solid-state battery technology. Earlier this year, Toyota reported that it plans on making solid-state batteries available for commercial use by the mid-2020s.
Toyoda pointed out that embracing a zero-emission future entails a two-path approach with both carbon-reducing and carbon-neutral vehicles.
For instance, a battery-electric vehicle should only be considered a carbon-reducing option if the source of energy used to power its batteries is not carbon-free.
"If the energy that powers vehicles is not clean, the use of an electrified vehicle, no matter what type it might be, would not result in zero CO2 emissions," Toyoda said.
Carbon-neutral vehicles, on the other hand, "run on clean energy and achieve zero CO2 emissions in the whole process of their use," Toyoda continued.
In addition to pursuing all-electric vehicles, Toyota has already been at work manufacturing fuel-cell power modules for its Mirai sedan as well as for testing in Class 8 Kenworth T680 tractor-trailers. Fuel sources, including hydrogen, can be considered carbon neutral when produced through renewable energy sources such as wind and solar.