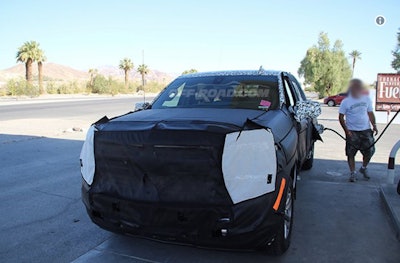 ICYMI: The Silverado is going diesel! https://t.co/tPSeyOoCsc pic.twitter.com/F17fDNdRoz

— Off-Road.com (@OffRoaddotcom) June 24, 2017
Looks like even Death Valley provides no escape from spy photographers.
A heavily camouflaged, diesel-sipping Silverado was photographed at a fueling station there at Death Valley National Park.
Looking at the pictures posted on autoguide.com, it's plain to see that the truck is getting fueled up on diesel. (You'll also notice the infamously high fuel prices at the park's station.) AutoGuide notes that the next generation 1500 "is expected to heavily use aluminum, although another recent set of spy shots confirmed that GM won't go to aluminum for the bed of the trucks."
Who knows what's under the hood. A 2.8-liter Duramax is available for GM's midsize Colorado and Canyon pickups.
The Silverado is going diesel! Here's the proof – https://t.co/tPSeyO71AE pic.twitter.com/nXSznlU03q

— Off-Road.com (@OffRoaddotcom) June 23, 2017
It's a tough time for light-duty diesels. The U.S. Justice Department, on behalf of the U.S. Environmental Protection Agency, announced last month that it had filed a lawsuit against FCA for allegedly using emissions defeat devices on 3.0-liter diesel-equipped Ram trucks and Jeep Grand Cherokee SUVs. FCA strongly denies the allegations and said it will vigorously defend itself.
GM's Duramax diesel was also called into question recently by a Seattle-based law firm which announced a lawsuit against the automaker over alleged emissions defeat devices. GM denies the claim and said it, too, will vigorously defend itself.
Autoguide reports that the diesel Silverado will be available next year as a 2019 model, following Ford's spring debut of its 2018 F-150 diesel.