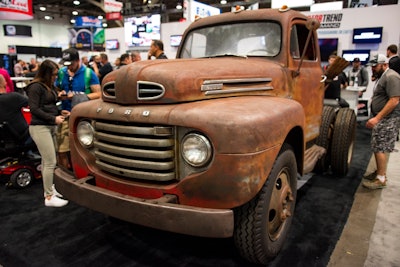 The distressed paint look is taking the custom truck world by storm as evidenced at the SEMA show this year, and many of the builders are pushing that formula into a kind of Mad Max alternative universe.
And why not? Why labor over fancy paint jobs, painstaking pinstripes and factory fresh interiors when you can grab a junker, throw in any random giant engine and blast off down the highway?
Outlaws used to own the hot car world, and it looks like we're headed back into that territory—a fitting end to a season of political anarchy and a nice antidote to Hollywood megastars and Internet billionaires paying builders to recreate their teenage dream cars.
Case in point, Stubby Bob, a crusty, 1950 Ford F-6 dump truck, chopped and powered by a supercharged big block Chevy engine—behind the cab—and geared to do wheelies. The engine transfers power to a Gearstar-built 4L80E electronic overdrive transmission and a Casals C500 V-drive pushes power to the original two speed rear axle.
Built as a project car for Roadkill magazine, Stubby Bob retained the Ford's suspension, tires wheels, and brakes. For a fuel tank, the builders welded in an appropriate beer keg just behind the rear axle between the rear frame rails
The magazine estimates the blown engine to generate somewhere between 600 and 750 horsepower. Wheelies? For sure, but the rear end is geared so low it seems they can't get the tires to smoke. Approach with caution.