Despite the Matchbox branding adorning the exterior of this F-350 concept, Ford says this truck is not a toy.
Instead, the MBX350 is a fully-functioning police and tactical truck concept designed to take on any type of terrain.
Built using a 2017 Ford F-350 4×5 XL Crew Cab, the truck is powered by Ford's 6.7-liter Power Stroke V8 paired to a six-speed TorqShift automatic transmission. The truck also features a MagnaFlow performance exhaust.
An ARE Accessories Z-series camper shell sits atop the truck bed, providing protection for any number of pieces of tactical gear. Speaking of the bed, it is equipped with a Bedslide 1000 which places a slide out shelf atop the bed floor, allowing you to slide out your payload for easy unloading.
The MBX350 is lifted with an 8.5-inch, four-link lift kit from Skyjacker Suspensions. The chassis also features LeDuc series coiler front shocks, M95 rear shocks and a silver dual-steering stabilizer.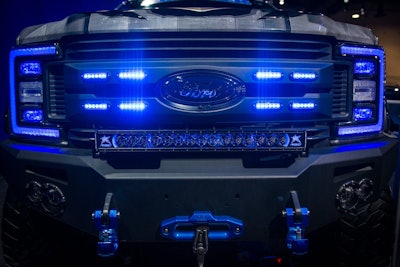 Fab Fours bumpers adorn the front and rear of the truck which also features a Warn Zeon 12S winch and premium hook.
The truck sits atop American Force 20-inch wheels wrapped in Nitto 40×15.50R20 tires and has been equipped with Bushwacker pocket-style fender flares.
And because it's a police truck, the MBX350 has a ton of lights. A 54-inch LED lightbar sits atop the truck along with legacy blue police lights. It's also equipped with Rigid 30-inch and 50-inch radiance blue backlit lights and rock lights and HIDprojectors custom LED blue headlights.
Inside, officers will find leather seats, Magellan eXplorist TRX7 off-road GPS navigation, TruckVault secure storage and a full police console with armrest, sidecar and swivel-arm laptop mount. The interior has also been outfitted with 5.11 tactical breaching tools and equipment.