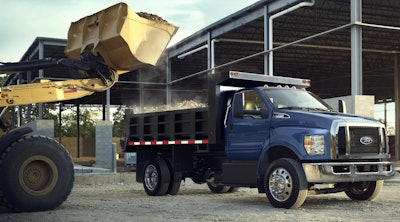 Ford
Ford Motor Company is recalling certain 2024-2025 Ford E-350, F-650 and F-750 vehicles over concerns that the park pawl may not fully engage the park gear.
A vehicle that does not have the park prawl fully engaged can roll away.
A casting defect in the transmission upper valve body casting may cause the main control poppet valve to get stuck in the open position, Ford said. A stuck poppet valve restricts the flow of lubricant to the rear extension housing bushing, resulting in excessive heat generation in the bushing and erosion of the rear seal. This condition leads to transmission fluid leakage, noise and vibration. The increased vibration may result in a loss of torque retention on the abutment plate bolts. Once the abutment plate bolt torque is compromised, the park actuator may be unable to engage the park pawl into the park gear.
The 5,795 vehicles affected by the recall are equipped with 6R140 transmissions that may have had excess material deposited on the wall of the poppet valve cavity during the manufacturing process.
The vehicle operator may notice transmission fluid leaking under the vehicle. Additionally, the operator may hear a loud noise and/or feel a vibration while driving.
Dealers will inspect and replace the transmission, or the valve body and extension housing, as necessary, free of charge. Owner notification letters are expected to be mailed October 30. Owners may contact Ford's customer service at 1-866-436-7332. Ford Motor Company's number for this recall is 23S54.