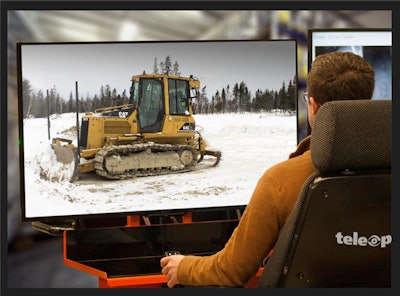 Hard-Line
What if you could quickly automate routine tasks on the jobsite?
That's just what a new partnership between Polymath Robotics and Hard-Line aims to do. The tech companies have teamed up to launch a plug-and-play solution for autonomous dozing.
Using Hard-Line's hardware integration, remote operation capabilities, and machine control API, integrated with Polymath's autonomous navigation tools, the companies say the autonomous dozer can perform important but repetitive tasks at jobsites and mines like dewatering, planting and heap leaching.
Emergency stop functionality and geofencing have been included to prevent the dozer from accessing dangerous areas. The vehicle-agnostic hardware and software can be installed on any new or existing model bulldozer from any manufacturer.
Elements of the autonomous dozer solution were demonstrated by the companies at ConExpo 2023. Attendees were able to teleoperate a dozer in Ontario, Canada, from Las Vegas.
For more than 25 years, Hard-Line has specialized in automation, teleoperation and remote-control solutions for heavy equipment. The company says the solutions allow customers to move personnel away from dangerous areas.
Established in 2021, Polymath Robotic's software platform and accompanying SDK allow heavy equipment owners to add autonomous functions to any industrial vehicle operating in a closed environment. Operators can build out machine movements in a simulated test environment and then deploy what they've built to a physical vehicle in the real world.
As part of the collaboration, Hard-Line has been added to Polymath's network of hardware integration partners, and Polymath has joined Hard-Line's software integration ecosystem.
"We are excited to add Hard-Line to our network of hardware integration partners and join their software ecosystem. Our collaboration brings autonomous solutions to the heavy equipment industry as part of each other's partner ecosystems," said Stefan Seltz-Axmacher, CEO of Polymath Robotics.
"We are proud to have Polymath join our software integration ecosystem, in addition to collaborating on an autonomous solution for remote Dozer operations. We see these solutions as a way to further enhance productivity and efficiency by bringing remote autonomous dozing to the market," said Ryan Siggelkow, SVP of technology at Hard-Line.
Polymath and Hard-Line are collaborating on the implementation and taking pre-orders. Orders are expected to ship in the second half of 2023.