Excavators from 19- to 50-metric tons are brimming with technology, from electronic controls to hyper-adjustable seating. But, questions still abound about how this technology benefits the contractor, and especially how contractors can learn to get the most from these features.
A la mode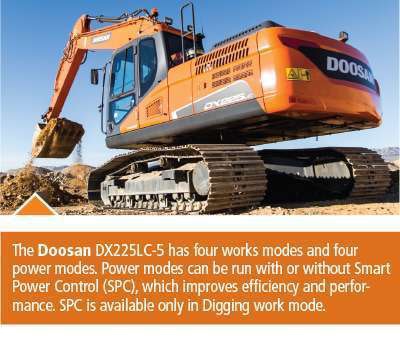 Excavators have multiple modes, multiple names for those modes, and those modes provide varying degrees of control by the operator. Some modes refer to the performance of the machine, such as Power and Eco. Other modes refer to the task at hand, such as Dig and Lift.
Some are more descriptive, such as Boom Economy Control in the Case Intelligent Hydraulic System, which cuts engine speed during boom down and swing gravity functions. Others simply use letters or numbers – "A" and "H" for example – and rely on the operator to know which mode delivers the right performance characteristics for the work being done.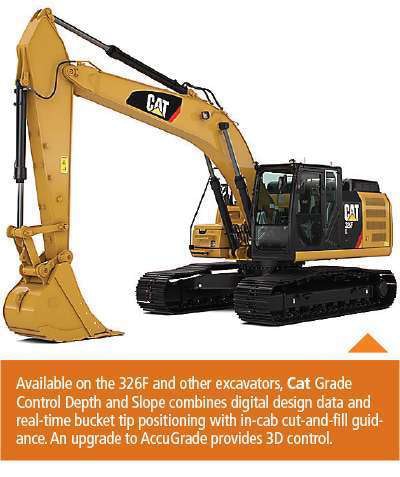 Then, there are modes for attachments. Some excavators can be programmed for up to 20 attachments, with each programmed setting named by the operator. In some modes, the operator cannot change any settings. In others, such as the programming of attachments, the operator has a somewhat free hand to set engine speed, as well as hydraulic flow and pressure.
Accessing modes and other machine controls is not at all standardized. Some OEMs still use traditional switches. Others make options accessible through the in-cab monitor. Still others have adopted haptic controllers from the automotive world.
Haptics is the term for tactile feedback; a pivotal part of the discussion as OEMs move from pilot control valves to electrohydraulic controls. A haptic controller is typically one with a knob that turns to select options on a monitor or other display; the operator then presses the controller to click on (or select) the highlighted item. There are currently questions as to whether haptic controls give the same feel and feedback as pilot controls, much like the discussion when the transition was made from mechanical controls to pilot controls.With so many modes at their disposal, do operators actually use them? "Operators fall into two camps," says Adam Woods, product marketing specialist at Link-Belt, "those who are in complete compliance with the use of various modes, and those who just want full power all the time."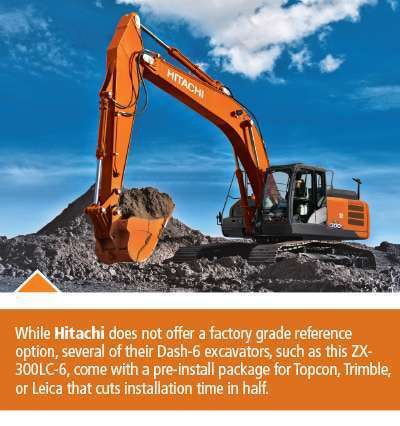 Matt Hendry, product consultant with John Deere and Hitachi, suggests supervisors tell operators which mode to use for a particular job and then use telematics to confirm compliance.
In their new Discovery Series, Gradall took a different approach to the mode conundrum: they did away with modes. "Operators don't read manuals," says Mike Popovich, vice president of sales for Gradall, "and at some point, they'll put the machine in 'Grade' mode and then complain about its lack of performance and cite the dreaded 'drive-by-wire' technology." Popovich says Discovery Series machines have sophisticated performance algorithms that adapt to conditions without relying on modes.
Split on autonomous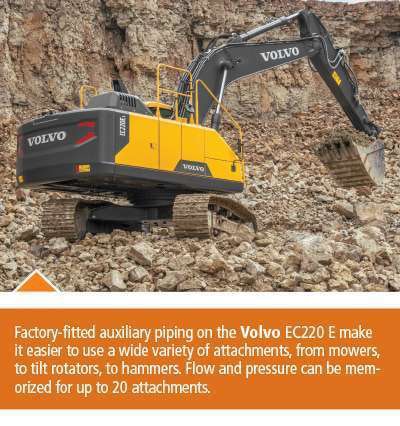 While not as numerous as mode options, there are several levels of machine autonomy and assist, and some models have no such features at all. At the lower end of this assistance are excavators with an indicator on the monitor. Operators dig and grade to plan using the indicator as a guide, but the actual digging and grading is still under the operator's complete control.
A few machines have complete GNSS control, while others have semi-autonomous control. Semi-autonomous control is more common on other types of machines, especially dozers and graders, primarily because dozer blades and grader moldboards are easier for GNSS systems to understand and control. Even a 6-way PAT blade is simplistic compared to the complexities of planning for buckets on an excavator. The system has to have the teeth-to-bucket pin dimension, which changes every time the bucket is changed, and it must keep up with changes to the bucket's position every time the bucket is curled, or the stick or boom is moved.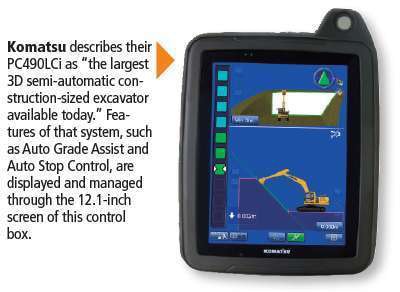 Not all OEMs are convinced that machine control technology is sufficiently advanced for use on excavators. "Technology is nowhere near where it needs to be, in terms of accuracy and reliability, for us to add it to our machines," says Popovich.
Some OEMs, such as John Deere and Hitachi, leave the decision to the customer by providing optional pre-installed packages. These packages may include electrical and hydraulic attachment points for Topcon, Leica, or Trimble systems, which can be installed by the dealer or a third party. But that's not as simple as it sounds, according to contractor Jack Bailey, Sr., president of JBR Construction and Consulting in Fredericksburg, Virginia. "You go to have a system installed and the installer says, 'We'll have to add this and this and this.' It's supposed to be plug-and-play, but it's not."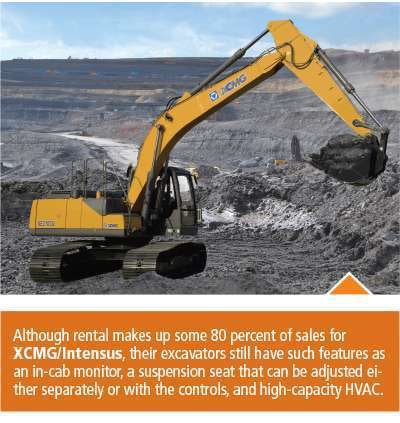 Lee Smith, crawler excavator product specialist with Doosan, says their machines have no autonomous function and there are no pre-install options available for aftermarket systems. "We have seen only limited customer demand for these systems," he says.
Some OEMs are fully committed. Komatsu introduced their intelligent Machine Control on the PC210LCi in 2014 and now offers it on two additional models, the PC360LCi-11 and PC490LCi-11. The feature prevents over-excavating, and Komatsu recommends it be used any time the goal is to hit a target grade or elevation.
Operators aren't always immediately comfortable with autonomous digging. The solution is to get them to use the system for a while. "Using the system will convert skeptics into believers," says Jason Anetsberger, senior product manager for intelligent machine controls at Komatsu.
Big screens, big data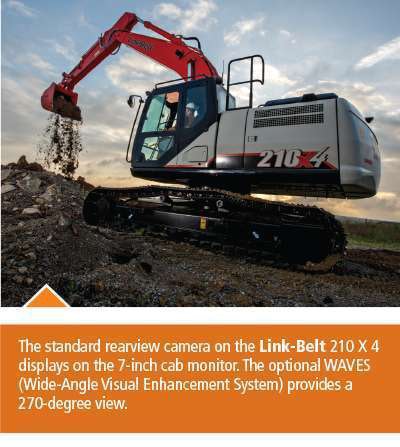 Monitors are growing; 7- and 8-inch screens are becoming common. The 12.1-inch screen on the Komatsu Control Box takes first place in the screen size category. Monitors may be touch-screen, but some OEMs feel touch-screens aren't suited for use in the damp and dirty world of construction, so they use buttons or other controls instead.
Most controls, from work modes to wiper speeds, are moving from switches on the console, to options on the monitor. The central lubrication system on Liebherr excavators, for example, is automated, but can be managed via the monitor.
Icons convey information efficiently, but Hendry says operators need to be familiar with those icons so that they know what action, if any, is required. For example, an icon will appear when the emissions system is going through a regeneration cycle. The operator doesn't have to do anything during regen, but should not shut down the machine until the regen process is completed.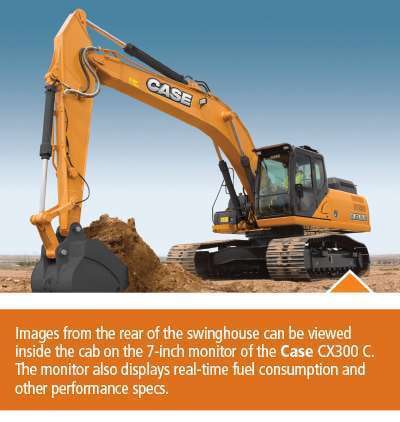 Telematics have mixed acceptance among OEMs, just as they do among customers. Gradall offers no telematics. "Right now, telematics are almost entirely an OEM and rental feature, not an owner/operator feature," says Popovich. But even if a customer isn't using telematics, the comprehensive history provided by telematics enhances residual value. "It's the Carfax of the construction industry," says Corey Rogers, marketing manager at Hyundai.
Make yourself comfortable
A technologically advanced seat? Yes. Even something as seemingly mundane as seating gets close scrutiny from OEMs, and the relationship between the seat, consoles and controls can provide more than 100 adjustment options. This area, especially, is one in which OEMs can offer little guidance. In a world where everyone from data entry clerks to bicyclists have established ideal seating positions, often measured in fractions of an inch, many OEMs just instruct operators to adjust the seat to their preference. Juston Thompson, product specialist at Hyundai, starts off the conversation. "Set everything up wrong at first," he instructs, "just to see what 'wrong' feels like."
Woods says managing the shoulder, elbow and wrist is the key to comfort. "Ideally you want the elbows at 90-degree angles and the wrists straight." But Woods acknowledges that comfort is highly individualized and can vary by application.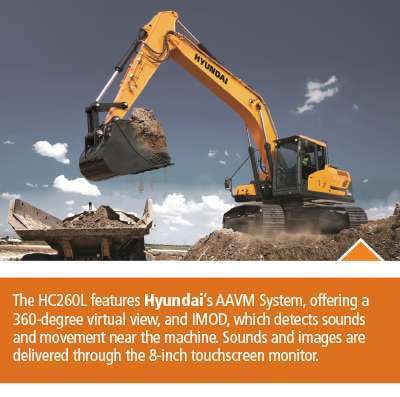 Hendry says that controls should be operated with the wrists and that the shoulders should not be involved. The key is to set the seat position in proper relation to the controls. "Even an inch makes a difference," he says.
Other technologies contributing to operator comfort include improved sound systems with Bluetooth compatibility and mp3 inputs, high-capacity HVAC systems with an abundance of vents, increased cab volume and floor space, and additional in-cab storage. Cabs are pressurized and isolation-mounted to reduce dust, noise and vibration. None of these is cutting-edge tech, but taken together, they increase operator comfort and reduce fatigue.
Visibility
Camera options range from none to one to many. Some cameras show only behind the machine; some behind and on the right; some stitch together multiple views for a 360-degree bird's-eye view, which is the big buzz right now.
Hyundai calls their 360-degree view All-Around View Monitoring (AAVM). They also offer Intelligent Moving Object Detection (IMOD), which responds to sound and motion within five meters of the system's sensors. Sound picked up by IMOD microphones is played through the cab monitor.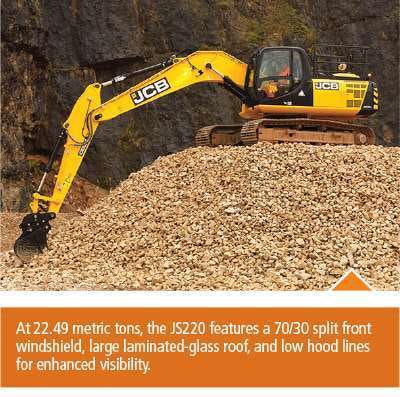 The Wide Angle View Enhancement System (WAVES), available on Link-Belt excavators, offers a 270-degree view. The rationale is that operators have an unobstructed view to the left of the machine and that the camera system need only provide visibility to the areas unseen from the operator's seat. The monitor can display either the 270-degree view or individual images, two of which can be viewed simultaneously. Woods says the operator should choose the view or views based on conditions, such as whether the machine is working or being repositioned.
Because of the diversity of Gradall models, they offer a wide range of camera systems. Popovich's recommendations are that operators know how to use their cameras, continue to use spotters as required, and set up the job site for optimal visibility.
Technology is creeping into lighting, as well. There are more lights – in some cases 10 or more – and options include halogen and LED elements. Liebherr has a feature called "Follow Me Home," where lights can remain on after the operator leaves the cab to enhance safety in low-light conditions.
Beyond cameras and lights, visibility has been improved with flat glass replacing curved glass to reduce distortion, glass in place of polycarbonate to eliminate hazing and checking, and larger glass panels. Mike Salcedo at XCMG/Intensus says when it comes to the size of glass panels, there's a sweet spot between visibility and reduced risk of glass breakage, which affects such design considerations as how close glass panels are to the floor. This is especially important for rental machines, which comprise some 80 percent of XCMG's sales.
The ultimate objective of all these efforts to improve visibility is to enhance what Kurt Moncini, senior product manager of tracked products with Komatsu, refers to as "situational awareness."
Low-tech in a high-tech world
Some OEMs provide lower-tech machines for customers who don't need fully-featured models, such as the rental market.
While XCMG has Tier 4 Interim machines available, they use EPA's Transition Program for Equipment Manufacturers (TPEM) exemptions to offer Tier 3 as their standard configuration.
Ryan Neal, product application specialist at Caterpillar, says Cat's 313F L GC is aimed at customers who are especially mindful of owning and operating costs, and for whom increased production doesn't significantly increase their revenue. The 70-horsepower engine doesn't require DEF to meet emissions standards and the machine has a simple one-pump hydraulic system. (At 29,300 pounds, the 313F is a bit below the range we're covering this month. It's included as an example of a lower-cost, lower-spec'ed machine.)
Michael Watt, excavator product manager with LiuGong, says all LiuGong excavators are designed to be simple to service. "Entry-level technicians with basic hand tools can do the work. There's no need for proprietary software or a laptop to enter LiuGong electronic controls."
Making it work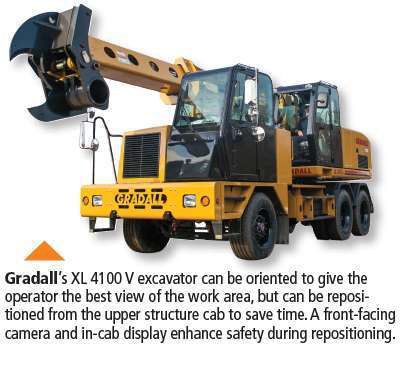 Back to the opening questions. Does all this technology benefit customers? And if so, how can customers learn to get the greatest possible benefit from it?
Contractor Bailey says it seems some features are created just because they're possible. "If technology doesn't increase production or communication, it's just technology for the sake of technology," he says. But technology adds cost. "To absorb these 8 and 10 percent price increases, I have to be 20 percent more productive," he adds. "The technology may get me there, but you have to show me how." Bailey says OEMs and dealers often fail at this. "JBR has embraced technology and information management, but we need better training. Most of what we've found out [about employing technical features], we've found on our own. There's a real disconnect, and the responsibility for correcting this disconnect lies with dealers."