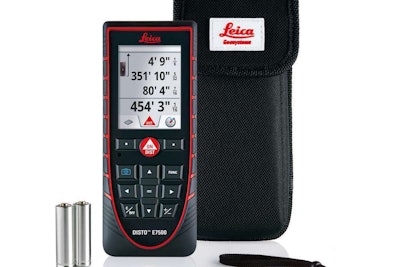 Tape measures only get you so far, and they're not the fastest way to take measurements, especially when you have a lot of them. Leica Geosystems has introduced it's DISTO E7500 laser distance meter with a 4X zoom capability that can take measurements up to 500 feet.
In sunny conditions when the red laser point is not visible the target can still be seen on the tool's full color display. The device will also calculate volumes or areas.
It has two programmable favorites keys, a timer delay, 30-position memory, an offset function and 15 options for units of measure.
Sealed against water and dust the DISTO E7500 can be cleaned under running water.