World of Concrete hosts more than 50,000 attendees
By Equipment World Staff
World of Concrete 2012, held January 24-27 in Las Vegas, registered 52,088 attendees for the show, which featured 1,200 exhibitors in 552,500 net square feet of space. Attendees had more than 100 educational opportunities to choose from, as well as popular events such as the Concrete Construction Challenge. For more products seen at the show, go to equipmentworld.com/digital.
X-RAY VISION
Scan concrete structures quickly and accurately to get large-area 2D or 3D images of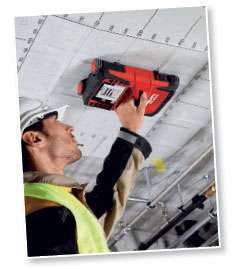 what's inside with Hilti's PS 1000 X-Scan Radar Detection System. Using a hand-guided scanner with color display, move the scanner horizontally and vertically across a measured template grid and analyze the scans immediately on the X-Scan display. With the aid of the PSA 100 field-rugged monitor, you can show objects in 3D images for on-the-spot interpretation, making it easy to find and mark potential drilling locations, limiting damage caused by hitting rebars, pipes or post-tension cables. Hilti says the device helps contractors do their own field scans, decreasing the need to hire specialists.
Visit EquipmentWorld.com/info
MORE HORSEPOWER
Perform touch asphalt reclamation or deep soil stabilization jobs with the RS950B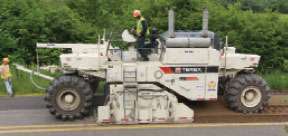 Reclaimer/Stabilizer from Terex Roadbuilding, which has a 950-horsepower C27 diesel engine with an enhanced cooling system. A center-mount cutter design distributes the full machine weight over the housing for maximized production, and a V-Belt power-band cutter drive boosts 25-percent more efficient operation compared to hydrostatic systems. Choose from 102-, 131-, 163- and 200-rpm cutter speeds.
Visit EquipmentWorld.com/info
SET YOUR PREFERENCE
Three patent-pending features headline Wacker Neuson's CRT 60-66K ride-on trowel: a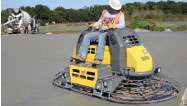 two-mode electro-hydraulic steering system, an engine power regulation system and built-in hydraulic wheel kit. The steering system lets you select the joystick response to best suited to your preferences and concrete conditions – mode 1 is for operators who use full range movements and mode 2 is for those who use smaller, more precise movements.
Visit EquipmentWorld.com/info
6-PERCENT BOOST
John Deere's 844K Series II 7-yard-class wheel loader offers a 6-percent boost to full-turn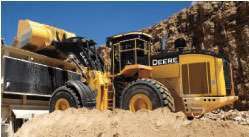 tip-load capacity. Other improvements: new axles, improved stability, ROPS certification and low-profile tires. The higher-capacity axles have standard temperature monitoring and automatic cooling and filtration. Optional low-profile tires are 4-inches wider, delivering increased traction and reduced ground pressure, and increasing stability and full-turn tip load. Four axle-differential configurations include two with on-the-fly differential lock engagement. A Tier 4 Interim engine will be available in May. Visit EquipmentWorld.com/info
GRIND AND CRUSH
The RSL150 asphalt grinder and rock crusher is the smallest in FAE's range, mounting on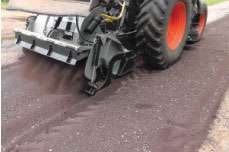 100- to 160-horsepower tractors. Side skids are hydraulically adjustable, allowing the unit to go down to 12 inches in depth. The attachment has a 5-foot width, and comes with a water system for dust control.The size of the final product can be changed by adjusting the position of the counter bars, accessible through a back panel door. Visit EquipmentWorld.com/info
C SERIES ADDITION
Case Construction Equipment's 160-net-horsepower CX210C uses cooled exhaust gas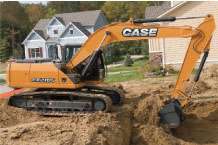 recirculation and offers 1percent fuel economy gains, 3-percent-cycle-time reductions and 7-percent-lift-capacity increases. A new narrow undercarriage version, measuring 8 feet 6 inches wide, offers easier transport. Boom economy control lowers engine rpms when joysticks are inactive. Swing Relief Control technology manages the hydraulic power given at the start of the swing operation and Spool Stroke Control creates an automatic pressure adjustment during digging operations.
Visit EquipmentWorld.com/info
SHOW BRIEFS

Darin Wiebe, Extreme Concrete, Linden, Alberta Canada, won Wacker Neuson's fourth annual trowel challenge, winning a customized CRT 48-35VX ride-on trowel and a trip to the Caribbean. Wacker also announced an On the Road campaign that will deploy a trailer with more than 70 machines and displays that will cross the country in 2012.
Octavio Miranda of Ancaster, Ontario, won Case's Triple Threat Rodeo, winning a 2012 Ram 2500 truck, plus a Case TR270 compact tractor and a Towmaster trailer for his sponsoring company, L.M. Enterprises.
Trimble announced it's providing the ultimate field test of all of its available technologies when it builds its 125,000-square-foot office in Westminster, Colorado. All contractors working on the facility, scheduled to open in March 2013, will be required to use Trimble's range of technologies.
OPTIMIZED Z-BAR
Caterpillar's K Series small wheel loaders – 924K, 930K and 938K – incorporate an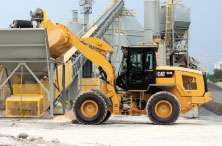 optimized Z-bar linkage with the parallel-lift and load-handling characteristics of Cat VersaLink or integrated Tool carrier linkage. The linkage works with Cat Performance Series buckets, which have a patented shape featuring a long floor, designed to take a bigger bite out of the pile. Kick-out functions for boom lift, boom lower and tilt are standard and programmable. The C6.6 engine's rated speed setting of 1,800 rpm – compared with 2,415 rpm for the H-Series – burns less fuel, lowers sound levels and reduces wear. A new creeper control features improves low speed operations by allowing you to adjust maximum ground speed down to 1 mph. Visit EquipmentWorld.com/info
SWING TORQUE IMPROVEMENTS
Doosan's Tier 4 Interim-compliant DX350LC improvements include more engine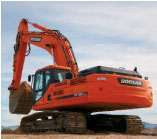 horsepower and torque to the turbocharger, an upgraded cooling system and a new hydraulic system. The 28-horsepower water-cooled engine uses a cooled exhaust gas recirculation system, diesel oxidation catalyst and diesel particulate filter. Cooling system upgrades include two variable-speed hydraulic fans that allow the engine and oil cooling systems to be controlled independently, giving the system quieter operation and 10 to 15 percent greater cooling capacity. Swing torque increased by 8 to 11 percent, allowing the excavator to swing uphill more easily, and improve trench backfilling production. Visit EquipmentWorld.com/info
SECURE COUPLING
The JRB Power Latch multi-pin-grabber coupler by Paladin Construction Group employs
an Automatic Blocking System that ensures the coupler still is engaged in the event of hydraulic failure. Working with a wide range of excavator and backhoe attachments, the coupler has backup mechanical locks on both the front and rear attachment pins that are independent of the machine's hydraulic locking and operating system. If the rear bucket pin is not correctly engaged, or missed during the attachment process, the ABS automatically secures the front attachment pin. Attachments can only be removed by the operator when they are in a safe, curled position. Flashing LED warning lights and an audible "stand clear" message alert bystanders when the operator is switching attachments. Visit EquipmentWorld.com/info