By Lauren Heartsill
Handheld and walk-behind concrete equipment
PATCH IT UP
The Elkin Hi-Tech volumetric concrete mixer is efficient for patching and repairing streets where small amounts of concrete with different mix designs are needed.
• Models have capacities from 2 to 10 cubic yards
• Designed to produce exact quantities of concrete
• Production rates range from 15 to more than 200 cubic yards an hour.
Visit EquipmentWorld.com/info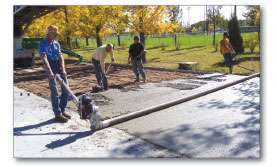 LIGHT SCREED
Lura's lightning strike concrete screed can do uphill, downhill or circular pours.
• Aluminum tubes weigh less than 4.5 pounds per lineal foot
• Features a clevis articulating, all-position handle
• Uses a 50-cubic-centimeter Honda engine.
Visit EquipmentWorld.com/info
Ins and outs of using a gas saw:
What do I do with the fuel?
Mix only enough fuel for a few days' use. If a saw is used intermittently, it is a good idea to add fuel stabilizer to protect against moisture. Shake the saw for 30 seconds before every use to make sure the oil and gas are properly mixed. The oil and gas will start to separate as soon as the saw is left sitting unused.
When should the blade be changed?

Once the segments wear down to about 1/8-inch height, the blade is worn out. The blade may also slow down or stop cutting completely. If any visible cracks appear or the blade wobbles abnormally, it is time to replace the blade.
How can I reduce sparks from the saw?
Sparks cannot be stopped completely, but the choice of blade will affect the amount of sparks. Abrasive blades tend to have the most sparks, and diamond blades typically spark less. Sparks can be reduced by installing a spark arrestor on the saw. Operators should insure sparks are directed to an area where there are no people or flammable materials.
Source: Hilti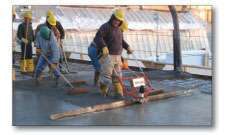 BATTERY-POWERED
The Allen Engineering E-Screed is a single-operator, lightweight wet screed used to strike off concrete.
• Produces uniform vibration distribution across the blade length
• Uses a lithium iron phosphate, 36-volt battery
• Battery has zero memory and can be charged anytime.
Visit EquipmentWorld.com/info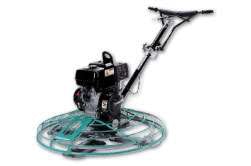 REDESIGNED HANDLES
The Whiteman walk-behind power trowel performs jobs such as residential and general construction work, high-speed burnishing and finishing epoxy floors.
• Redesigned, height-adjustable handles
• Features a rotating guard ring
• Blades are made of heat-treated trowel steel with additional rivets.
Visit EquipmentWorld.com/info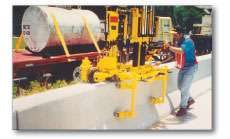 DRILLS VERTICALLY
E-Z Drill's four-gang core drill system drills vertical holes in the top of concrete parapet walls.
• Four drills are mounted in the drill's roller-bearing feed system
• Offered with electric or pneumatic core drills
• Features two main wheels, two arms with smaller mounted wheels and a spring-loaded arm.
Visit EquipmentWorld.com/info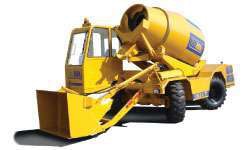 SELF-LOADING
The Carmix 3.5TT self-loading mixer puts out 123.6 cubic feet of concrete per batch.
• Has productivity of four cycles an hour
• Uses a Perkins 1104D-44TA turbo diesel engine
• Mixing unit slews hydraulically through 300 degrees for more than 2 meters of discharge.
Visit EquipmentWorld.com/info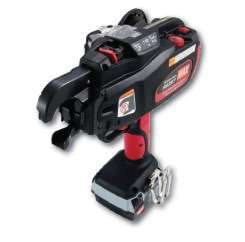 QUICK TIE
The MAX USA RB397 rebar tying tool can do 2,000 ties per charge, a 400-percent increase from the previous model.
• Can tie rebar up to 5 x 6
• Features a trigger lock, torque adjustment dial and carrying case
• Comes with a charger and battery pack.
Visit EquipmentWorld.com/info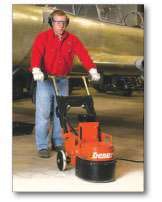 COMPACT GRINDER
General Equipment's SG 12/E single-head surface grinder can perform jobs such as removing rubber carpet backing, grinding concrete surfaces and breaking up grease and dirt deposits.
• Powered by an enclosed, fan-cooled, 1.5-horsepower electric motor
• Has a single-rotating disc with a 12-inch working width
• Features a folding handle and compact frame.
Visit EquipmentWorld.com/info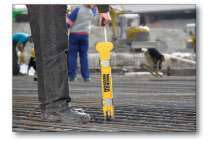 STAND UP
The Wacker Neuson DF 16 rebar tier can be used when binding concrete reinforcing steel.
• Ties up to 1,000 knots per hour
• Weighs less than 5 pounds
• Use while standing in an upright position.
Visit EquipmentWorld.com/info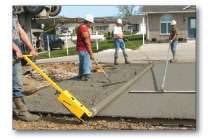 ELECTRIC SPIN
The Spin Screed is powered by electricity and can be used on stiff, low slump concrete or on wet mix.
• Aluminum pipe can be cut into custom lengths up to 22 feet long
• Leaves aggregates directly below the surface
• Stakes can be placed 5 feet apart.
Visit EquipmentWorld.com/info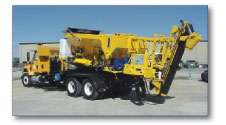 CONCRETE TRANSPORTER
The Cemen Tech MCD6-100 hook lift carries materials for concrete production in separate compartments.
• Truck chassis transports and delivers concrete using the body
• Measures materials at the jobsite
• Body can be unloaded or detached from the truck using the hook lift system.
Visit EquipmentWorld.com/info
CONTAINED POWER
The Metal Forms Speed Screed has reversible aluminum finishing tubes and lift handles for transport.
• Uses a self-contained power source
• Provides positive crown control
• Features forward travel by hand winches or hydraulic winches.
Visit EquipmentWorld.com/info
SAW CONCRETE
The Hilti DSH 700 and DSH 900 hand-held gas saws cut materials such as concrete, metal deck, rebar, brick and grating.
• Isolated handles with metal springs minimize vibrations and maximize saw control
• Uses a counter-clockwise starting procedure and primer bulb
• Comes standard with a cyclone filtration system.
Visit EquipmentWorld.com/info