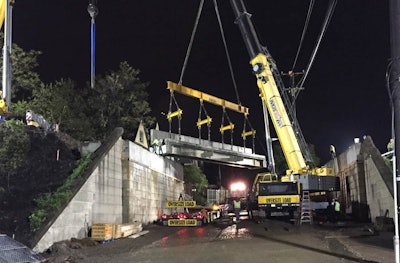 The video below shows time-lapse footage of the Pennsylvania Department of Transportation's (PennDOT) project to replace the Route 30 bridge over Bessemer Ave. PennDOT let the job in November 2015. HNTB was the designer, and Brayman Construction was the contractor, winning the bid at $2.3 million.
According to a report by the Accelerated Bridge Construction University Transportation Center at Florida International University, the project used accelerated bridge construction to speed up the process, allowing the bridge to be completed in just 57 hours during one weekend, May 20-23, 2016 . PennDOT used precast concrete abutment caps, modular deck beams, and precast concrete approach slabs. The six modular deck beams consist of two steel I-girders, which were connected with ultra-high performance concrete (UHPC) deck joints.
Learn more about the project and the lessons learned in the downloadable report.