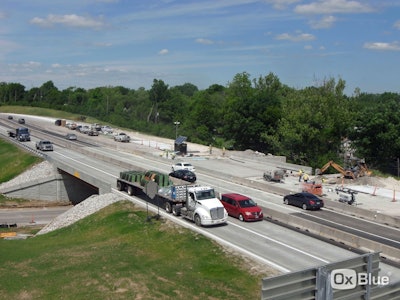 The Missouri Department of Transportation (MoDOT) says the new Interstate 70 bridge at Garth Avenue is only the second bridge in Missouri to be slid into place from its nearby location, but more bridges at Range Line Street and Business Loop will be shifted into place this summer.
Due to rain, the bridge slide was postponed from the original date of May 16 to May 18.
According to MoDOT, hydraulic jacks and about 15 bottles of dishwashing liquid were used to move the 75-foot bridge, which weighs 800,000 pounds. The dishwashing liquid served as a lubricant to help slide the structure along stainless steel plates into its permanent place. It took 20 workers approximately 8 hours to move the bridge.
"Building the new bridges on temporary columns adjacent to the old structures and sliding them onto the new bridge columns drastically reduces construction time," Travis Koestner, assistant district engineer for MoDOT's Central District, says in a news release. "It also minimizes traffic impacts, which is especially important on busy I-70, and greatly increases safety."
A time-lapse video of the I-70 bridge replacement project is below. For more information, including a complete look at traffic and pedestrian impacts associated with the project, visit www.modot.org/ColumbiaBridges.