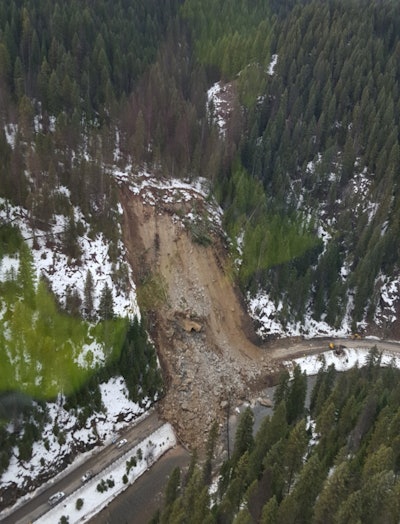 Idaho Transportation Department workers were out near Elk City performing some simple maintenance on Idaho Highway 14 when part of the mountain gave way to a huge landslide that blocked the highway.
The landslide left the main route to the small town of Elk City blocked off for nearly a week.
ITD transportation technician Bret Edwards was able to get footage of the large landslide on his smartphone until he had to flee to avoid the tumbling dirt and rocks.
"I've never seen anything like it before," Edwards said to the Idaho Statesman.
The landslide covered a 500-foot stretch of the road in upwards of 40 feet of debris – upwards of 100,000 tons of rock and dirt. More than 650 local residents were left without power.
The only way in and out of Elk City now is a soft forest road that was covered in snow. Idaho County said it could take three or more weeks to get the road cleared. And it won't be cheap, possibly costing more than $1.5 million.
"It's a huge amount of material," ITD spokesman Reed Hollinshead said.