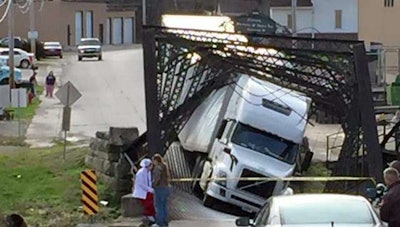 A truck driver tried to cross the historic Paoli bridge in Indiana, but the weight of her vehicle was just too much for the 135-year-old bridge.
WDRB in Louisville, Kentucky, reported that the bridge collapsed under the weight of Mary Lambright's semi truck on Christmas Day.
"There have been a few accidents on that bridge but nothing that major," Paoli Police Detective Brandon Mesarosh said.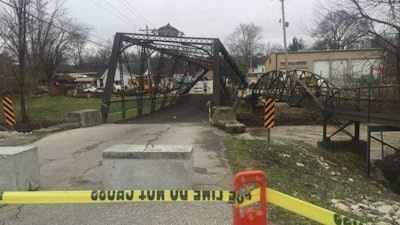 The truck was carrying thousands of bottles of water that weighed Lambright's truck down to six times the posted limit.
"You need to obey all posted traffic signs and traffic laws. When you get your driver's license, you're made aware of these things and you need to obey them," Mesarosh told WDRB. "… One of the biggest things in completing your log book when you're driving a truck is you have a certain weight limit that you can reach prior to leaving with your load even."
Lambright 23, said she saw the weight sign but didn't know the conversion of pounds to tons.
Lambright was charged with reckless operation of a tractor trailer and three other infractions, and she could face up to a $1,000 fine and 180 days in jail. She may also lose her commercial license.
WDRB 41 Louisville News