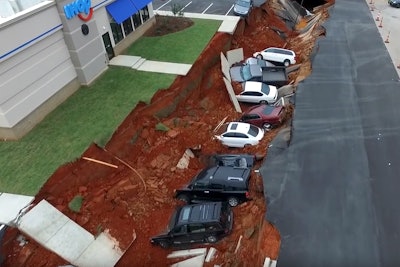 While the owners of 12 vehicles were dining at a Mississippi IHOP, the parking lot decided to have a meal of its own when a massive hole opened and swallowed 12 vehicles. You can see aerial footage of the hole, taken by Jason Hartwig with a DJI Phantom 3 drone and uploaded to YouTube, below.
No one is quite sure what caused the hole, which was 374 feet long, 36 feet wide and 15 feet deep. An earlier report from USA Today said that the Mississippi Department of Transportation was investigating the cause of the hole. But MDOT spokesperson Morgan Miller reached out to tell us the department's engineers were sent to Meridian on Monday only to see whether any damage had been incurred by a concrete box culvert maintained by the state.
Miller said no issues were found with the box culvert. "MDOT was not in a consulting role on this," Miller said in an email, adding that determining the cause of the hole would be a city issue.
The city had received 10 inches of rain over the past two weeks, but Meridian Public Safety Director Buck Roberts told the The Meridian Star that the hole wasn't a sinkhole like early reports said. And he said investigators would have to be the ones to figure out what caused the hole to open up.
"I am not an engineer. (My guess) would just be speculation," Roberts said. "… You can call it what you want, a cave-in or whatever, but it is not a sinkhole."
The hole followed an underground metal stormwater pipe, which was damaged when the hole opened up. But Roberts said the broken pipe wasn't what caused the hole.
No one was injured, but plenty of cars, trucks and SUVs are still stuck in the hole. Roberts said they won't be able to be removed until the ground dries and is more stable.