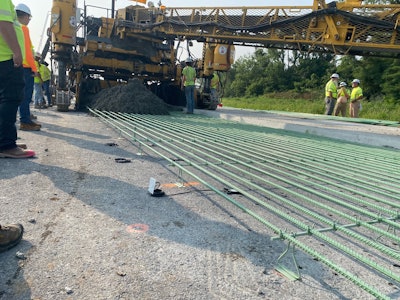 Purdue University photo/Trevor Peters
Concrete sensors invented by a Purdue University professor are being added to interstate reconstruction projects in the U.S. to try to prevent premature concrete failures.
Luna Lu, acting head of Purdue's Lyles School of Civil Engineering, has been leading development of the sensors since 2017. She formed startup company WaveLogix in 2021 to develop the Rebel Concrete Strength Sensors to market and manufacture them on a larger scale. With funding from the Federal Highway Administration, states with concrete interstates are participating in tests of the sensors. Indiana and Texas are the first two states to deploy them.
The sensors were added earlier this year during concrete pours on a stretch of I-35 in Hillsborough, Texas, and to a new I-469 ramp being built in Indiana near Indianapolis, as well as on sections of I-70 and I-74. States also participating in the study: Missouri, North Dakota, Kansas, California, Tennessee, Colorado and Utah.
The sensors enable roadbuilders to determine when fresh concrete is mature enough to be driven on without having to take and analyze concrete samples. The sensors "directly monitor the fresh concrete and accurately measure many of its properties at once," according to a Purdue University news release. "The sensor communicates to engineers via a smartphone app exactly when the pavement is strong enough to handle heavy traffic."
The concrete sensors are installed before the concrete pour and covered with concrete. A sensor cable is plugged into a reusable handheld device that automatically logs concrete-strength data in real time for as long as the data is needed. The video below by Purdue University shows how they are installed:
The technology is designed to prevent the discrepancies that can occur during lab testing of concrete's strength, which could lead to opening a new road too soon and shortening the concrete's life. Having accurate real-time data can enable the new roads to open on time and reduce future construction costs, which also leads to a reduction in carbon emissions, the university says.
"Traffic jams caused by infrastructure repairs have wasted 4 billion hours and 3 billion gallons of gas on a yearly basis," Lu says. "This is primarily due to insufficient knowledge and understanding of concrete's strength levels."
Lu's company WaveLogix licenses the technology from the Purdue Research Foundation Office of Technology Commercialization, which has applied for patent protection on the intellectual property. The Rebel Concrete Strength Sensors are scheduled to hit the market later this year.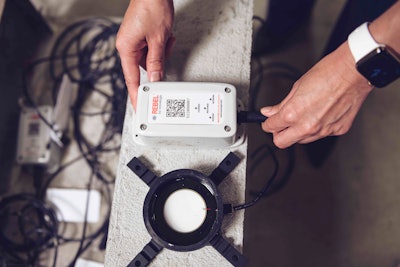 Meanwhile, Lu is also working on a way to use the sensors' data to reduce carbon emissions associated with concrete production and roadwork. Harnessing artificial intelligence, WaveLogix is developing a way to prevent concrete mixes from being overloaded with cement, which can lead to premature cracking.
"The biggest problem with concrete mixes is that we use more cement to increase the concrete's strength," Lu says. "That won't help open the road to traffic any sooner."
She estimates that "concrete mix overdesign causes more than 1 billion tons of carbon emissions per year."
She expects to be able to reduce the amount of cement in mixes by up to 25% with artificial intelligence, which thereby reduces costs and pollution.
"I feel a strong sense of responsibility to make an impact on our infrastructure through developing new types of technology," she says. "In the field of civil engineering, if we don't make an impact on the world, there won't be a world to worry about."