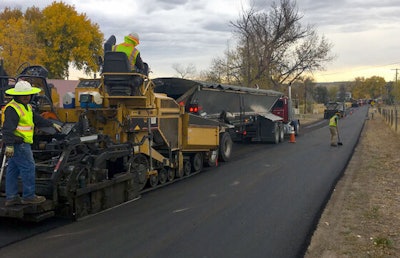 National Asphalt Pavement Association
Roadbuilders in Colorado are seeing dramatic benefits from using stone matrix asphalt versus traditional asphalt mixes for increasing road life as well as other benefits, according to the U.S. Department of Transportation.
SMA is more expensive than typical asphalt mixes, but local transportation agencies in the state are finding it's worth the cost as a targeted pavement overlay in certain conditions – and not just on interstates and highways.
"If you target high-volume roadways, I think it's worth the cost," says Chase Kozoh, construction inspector for the city of Lakewood. "There's less maintenance; it lasts longer and performs better. You just need to implement smoothness and maintenance controls to ensure that contractors maintain the roadway quality.
"If another local agency has major concerns with rutting and is struggling to keep up with maintenance on major roadways, I highly recommend spending the extra money on SMA."
SMA is a gap-graded hot mix asphalt designed to improve rut resistance by relying on its aggregate properties rather than asphalt binder properties. SMA contains a high percentage of crushed, angular stones and a low percentage of filler material combined with a high-quality asphalt binder, according to USDOT. "Benefits include improved skid resistance, durability and resistance to rutting and cracking. SMA also has superior resistance to deformation caused by heavy traffic loads and can withstand extreme Colorado temperatures and weather conditions."
Lakewood has been using SMA since it first experimented with it in 2014 and now uses it on most of its high-volume arterial roads and on some collector roads. The experimental road built in 2014 with SMA gets heavy commercial traffic, yet it is still in good shape with only minor rutting nine years later. "Based on its pavement condition index, the road's life expectancy could nearly double while keeping the overall maintenance cost down," USDOT says. "Before SMA, Lakewood replaced major arterial roads every 10 years."
Though SMA is mostly used for major highways and interstates, Colorado cities have been using it on heavily trafficked residential roads and are estimating lifespans of up to 30 to 40 years, according to USDOT.
Lakewood is also finding the use of SMA can help with deicing. "SMA is a gap-graded mix, so spraying the roadway with a brine mixture ahead of weather events fills in those gaps, lowers freezing temperatures and creates a layer of slush that can be removed before icing," USDOT says.
This method, however, only works for certain types of storms, and the benefits are reduced in freezing and snowy events, according to Kozoh.
The Colorado Asphalt Pavement Association reports that local agencies using SMA for arterial overlay programs have documented 60% increases in the overlay's life. The city of Aurora has also been using SMA, and Superior, Englewood and Douglas County are beginning to use it.