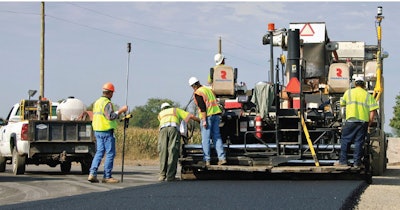 The Trump administration made good on a campaign promise Thursday, repealing an Obama-era rule that expanded protection of bodies of water in the U.S.
The Waters of the U.S. rule, or WOTUS, expanded the definition of what constitutes a federally protected waterway in the U.S. to encompass small bodies like wetlands and streams, according to a report from NPR. The rule has been hotly contested due to the extra regulatory red tape it introduced to industries like construction.
The American Road & Transportation Builders Association in particular is applauding the repeal, saying it will reduce delays to important transportation projects, specifically, delays brought on by the question of whether roadside ditches with water in them constitute a protected waterway.
"The regulatory ping-pong on roadside ditches has created vast uncertainty for years with little environmental benefit," says ARTBA president & CEO Dave Bauer in a press release. "Regulators should understand that delay and uncertainty only serve to increase transportation project costs. The Trump administration repeal is a common-sense approach to harmonize wetlands protection and the delivery of needed transportation improvements."
ARTBA notes that "[a] ditch's primary purpose is safety, and they only have water present during and after rainfall. In contrast, traditional wetlands are not typically man-made nor do they fulfill a specific safety function."
EPA Administrator Andrew Wheeler and R.D. James, Assistant Secretary of the Army for Civil Works, say the move restores Clean Water Act regulations to where they where previous to the Obama administration's rule. According to NPR, the only wetlands that will be protected now are "those that are adjacent to a major body of water, or ones that are connected to a major waterway by surface water."
"Today, EPA and the Department of the Army finalized a rule to repeal the previous administration's overreach in the federal regulation of U.S. waters and recodify the longstanding and familiar regulatory text that previously existed," said EPA Administrator Andrew Wheeler, according to an EPA press release. "Today's Step 1 action fulfills a key promise of President Trump and sets the stage for Step 2 — a new WOTUS definition that will provide greater regulatory certainty for farmers, landowners, home builders, and developers nationwide."
"Before this final rule, a patchwork of regulations existed across the country as a result of various judicial decisions enjoining the 2015 Rule," James said. "This final rule reestablishes national consistency across the country by returning all jurisdictions to the longstanding regulatory framework that existed prior to the 2015 Rule, which is more familiar to the agencies, States, Tribes, local governments, regulated entities, and the public while the agencies engage in a second rulemaking to revise the definition of 'waters of the United States.'"
Environmental groups are already threatening to sue over the repeal.
Editor's Note: Kerry Clines and Wayne Grayson contributed to this report.