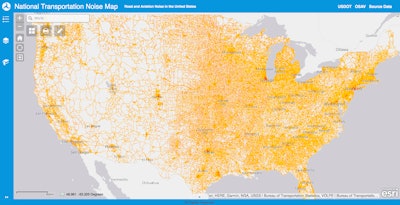 The U.S. Department of Transportation's Bureau of Transportation Statistics (BTS) has released its initial National Transportation Noise Map, which shows that more than 97 percent of the population in the country could be exposed to aviation and interstate highway noise levels below 50 decibels.
That level, BTS reports, is roughly the same as a "humming" refrigerator.
The map includes aircraft and road noise inventory data provided as web map services for use with Geographic Information Systems, which are computer programs that store, analyze and present spatial or geographic data.
Less than one-tenth of one percent, the agency says are potentially exposed to 80 decibels or more, which would be comparable to an operating garbage disposal.
"The purpose of the noise map is to facilitate the tracking of trends in transportation-related noise, by mode, and collectively for multiple transportation modes," BTS reports. "The data allow viewing the national picture of potential exposure to aviation and highway noise. The data also allow viewing of the potential exposure at the state or county level."
The agency says the National Transportation Noise Map is an addition to the National Transportation Atlas Database, which is a set of nationwide geographic databases of transportation facilities, networks and associated infrastructure available from the BTS Geospatial Data Catalog.