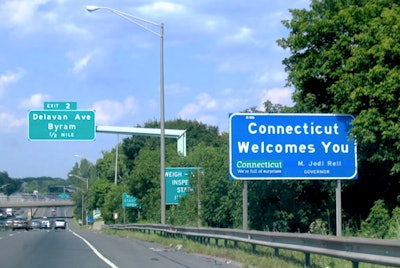 The Connecticut Department of Transportation (CTDOT) says it has developed a plan for the fiscal year 2017 budget with $19 million in cuts to its road and bridge program and $18 million in reductions to its public transportation program.
CTDOT Commissioner James P. Redeker says the proposal "ensures a balanced budget in this fiscal year and positions CTDOT for the new economic realities that will be faced in the upcoming biennial budget."
The cuts in the highway and bridge programs cover maintenance work, including tree cutting, joint and crack seal and drainage work. CTDOT also plans to delay hiring and capture some savings by having higher starting inventories of salt and lower fuel prices. The agency also will cut staffed hours at seven highway rest areas and close the Westbrook welcome center. The seven rest areas will be closed overnight, but will allow truck parking.
The plan also includes increase in rail and bus fares, which will undergo a series of hearings in September. The agency is proposing an increase in the New Haven commuter rail line fare by 5 percent to generate $5.9 million. State-wide CTtransit standard one-way fare would increase by 25 cents, with express bus fares and other pre-paid fares increasing by roughly 17 percent.
In response to CTDOT's plan, Gov. Dannel Malloy wrote a letter to the Connecticut general assembly highlighting the needs for improved infrastructure spending in the state, and calling on them work on infrastructure funding solutions.
"The lack of transportation investment is holding back our economy, stifling business growth, and reducing our quality of life. We are living with the result of a failure to adequately invest in our infrastructure over the course of 40 years, but it has fallen upon us to act," Molloy writes.
"Because of cuts made in the budget, the CTDOT must move forward with a number of steps to keep the Special Transportation Fund in balance while continuing investment, including spending reductions and fare increases. These are not decisions anyone takes lightly, but are nevertheless necessary to avoid significant reductions in service. I believe we should let this be a reminder as to what happens when transportation funding is cut—our economy suffers, and because our systems deteriorate, consumers face higher costs and lose more time in traffic."