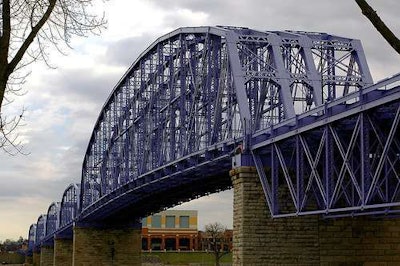 The Louisiana Department of Transportation and Development (LDOTD) has cancelled the rehabilitation contract for work on the Jimmie Davis Bridge in Bossier City to instead use the funds to design and build a completely new bridge.
Roughly 21,500 vehicles daily travel across the bridge, which was built in 1968.
Gov. John Bel Edwards said the rehab project would have cost more than $20 million and would not have taken care of the overall problem with the bridge.
"I want to invest in real, long-term, common-sense transportation solutions that make the best use of our financial resources," he says. "By working with our state and local partners, we have developed a new strategy that will better serve Northwest Louisiana. I'm confident that this is the wisest investment for Louisiana and the best approach to address the transportation challenges in the Shreveport-Bossier region."
The rehab project was estimated to have been complete by December 2017 and would have involved re-decking, painting, structural repairs and new lighting.
A cost estimate for the new structure hasn't been calculated yet and the funding will need to come from a combination of state and federal programs, LDOTD says. The agency will continue maintenance on the bridge and keep it open during construction "to minimize disruption to commuters and businesses in the community."
"This new bridge will support long-term transportation solutions and add value to the communities of Shreveport-Bossier," says LDOTD Secretary Shawn Wilson. "We always knew that the investment in maintenance of the current bridge would make the request for a new bridge less competitive. The step to forgo the rehabilitation project allows us to start the design process as soon as possible with the money we have."
This funding shift was made possible by new language added to House Bill 2 that allows funds to be used for maintenance of the current bridge or for the design and construction of a new structure.
In an effort to keep options open for the allocation of money, Sen. Peacock recently added language into House Bill 2 to allow for the money to be used either for maintenance of the cur-rent bridge, or towards the design and construction of a new bridge.
"A new modern four-lane Jimmie Davis Bridge will continue to allow our community to grow and prosper," say Sen. Barrow Peacock, who worked on the change to the bill. "In addition, it will allow our daily commute and commerce to flow with speed and efficiency."