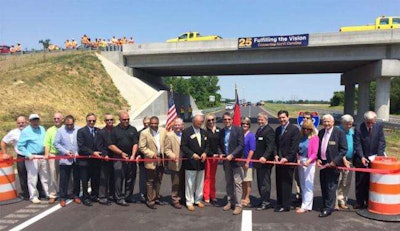 State officials, including Gov. Pat McCrory and North Carolina Department of Transportation (NCDOT) Sec. Nick Tennyson, recently celebrated the opening of the US 70 Goldsboro Bypass, a route designed to relive congestion and improve local access and safety on the roadway.
"The Goldsboro Bypass is a great example of what we are working to accomplish throughout the state, relieving the bottlenecks that are not just an obstacle to efficient travel, but also to increased prosperity and improved quality of life," McCrory said. "This bypass brings us closer to realizing our vision for this corridor and the many benefits that come from improved highway connections."
The total bypass measures more than 20 miles from US 70 west of NC 581 in Wayne County to US 70 east of Promise Land Road in Lenoir County. The project, completed in three sections beginning in December 2011, cost roughly $235 million.
"The Goldsboro Bypass illustrates how North Carolina is improving mobility and preparing for growth through new transportation infrastructure," Tennyson said. "We are able to complete more critical improvements like this throughout North Carolina thanks to the 2015 budget signed by Governor McCrory that added more than $700 million in new funding for transportation projects."