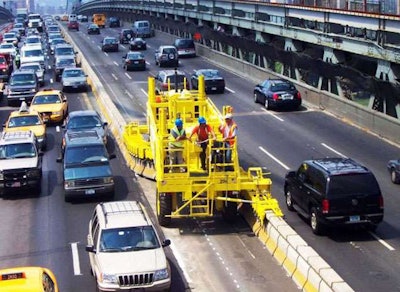 The American Road & Transportation Builders Association (ARTBA) is seeking clarification from the Federal Highway Administration (FHWA) regarding state DOTs being allowed to use federal-aid highway money to buy movable safety barriers.
The association says movable barriers are effective in creating "positive separation" between vehicle traffic and workers, but that FHWA hasn't been clear in its guidance to states that the barriers are eligible for purchase with federal-aid funds even on federal-aid projects.
"This lack of guidance has essentially blocked the potential use of this innovative, life-saving product class on federal-aid highway projects across the nation," ARTBA says.
"There is no greater responsibility for those of us involved in the provision of transportation infrastructure than to do all that is possible to ensure the safety and well-being of the construction workers, motorists, truck drivers, cyclists and pedestrians who interact with our project work sites," ARTBA President & CEO Pete Ruane said in a recent letter to FHWA Administrator Greg Nadeau.
He further asked Nadeau to "remedy this situation expeditiously with clear written guidance to FHWA personnel and the state DOTs."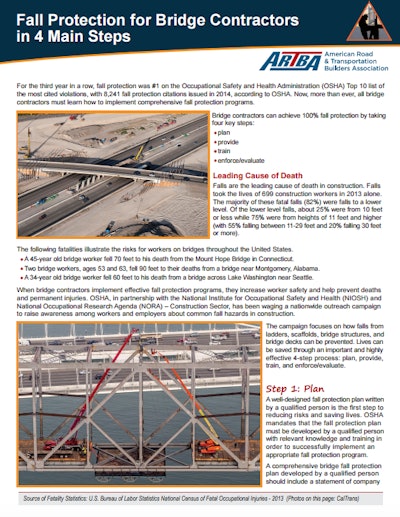 In other transportation worker safety efforts, ARTBA has produced 13 fact sheets aimed at preventing transportation fall-related deaths and injuries, coinciding with National Safety Stand-Down to Prevent Falls in Construction week May 2-6.
"Using illustrations, photos and plain English explanations, the fact sheets were designed to help contractors and workers understand the basic concepts of fall prevention and protection," says Brad Sant, ARTBA senior vice president of safety and education. "Our goal is to provide information in a way that any worker will understand, knowing what is needed to work safely in a variety of conditions."
ARTBA coordinated with industry experts to create the fact sheets and used funding via a cooperative agreement with FHWA.
The fact sheets are available here at the National Work Zone Safety Information Clearinghouse website. Topics include: