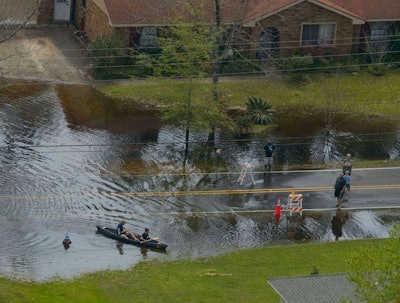 Louisiana suffered approximately $20 million in damage to its bridges and roads due to recent flooding, state Department of Transportation and Development (DOTD) Secretary Shawn Wilson said during a meeting of the subcommittee of the House Appropriations Committee, according to a report in the New Orleans Advocate.
The subcommittee is reviewing the DOTD's proposed $583 million operating budget for the 2016-2017 fiscal year that begins July 1.
Wilson told the subcommittee that 455 roads and bridges were closed at one point and that 60 or so roads and two bridges were still off limits, according to the news agency.
"It is a combination, mostly roads, is what we are finding," Wilson told reporters after the meeting. "We are seeing a lot of erosion and shoulder issues, which will allow water to get under the road and be an unsafe condition. Virtually all of the areas where we have declared a disaster, we are finding ourselves having to go in and do some erosion work and some other road repairs."
The news agency reports that bridges and interstates that were known to be in a weakened condition before the storms were the first to get attention after the flood waters abated.
The estimated cost to repair the damage is $15 million to $20 million. Wilson told reporters that the federal government is expected to pay most of the repair cost, but that the state will have to make up the rest. The problem is, Louisiana already had a $12.7 billion backlog of road and bridge needs before the flooding occurred.