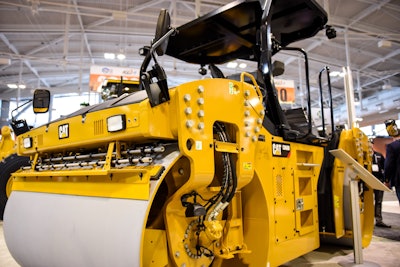 Caterpillar has launched a new 84-inch drum tandem vibratory asphalt roller, the CB68B, which features a new operator station and multiple vibratory systems. The machine was on display at the 2016 World of Asphalt in Nashville.
The new operator station, designed more like an airplane cockpit, is slightly canted toward one end. Pushing forward on the joystick propels the machine that direction. Rotating the seat to slightly canted toward the opposite direction allows the operator to push the joystick forward and move in that new direction.
"It has 360-rotation, giving good visibility to the drums," says Cat's Mark Sterling. "That's the main thing when you're running—to have good visibility down to our drums."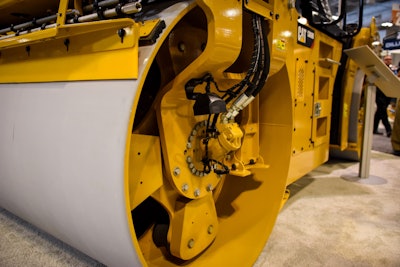 Mark Johnson, another Cat specialist, says that no matter what direction the operator is facing, he or she will be in the forward position. "If I rotate my seat in another direction, my forward position will automatically change my direction," he says. "So from a safety standpoint I'm always going forward."
The systems available on the machine are available in two main choices. These include the Versa-Vibe system, which is a four amplitude, two frequency option, and then a five amplitude, one frequency option.
"This size roller is very popular with the Versa-Vibe, which means I've got a high frequency for speed and I have low frequency and I can change my amplitude I can get my compaction," Johnson says. "So a very versatile system that's available for the contractor."
The 84-inch drum has a diameter of 51 inches, an offset of 6 inches and a shell thickness of 0.67 inches. The machine weighs 15 metric tons (34,789 pounds) and measures 15 feet, 6 inches long.
The CB68B is available with Cat Compaction Control, Caterpillar's intelligent compaction system, and the Cat C4.4 ACERT 142hp Tier 4 final engine.