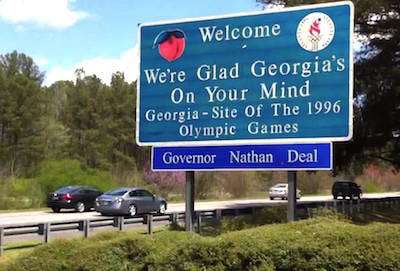 The Georgia Department of Transportation (GDOT) has awarded 24 contracts valued at $89.7 million for transportation projects across the state, included multiple bridge and resurfacing projects.
The projects were advertised for bids in January and awarded earlier this month.
"As the months progress, we will see a significant increase in projects that tackle the state's deteriorating transportation infrastructure—projects to restore Georgia's pavements and bridges—as a result of the Transportation Funding Act," says GDOT Commissioner Russell McMurry. "GDOT will perform more routine maintenance than we were previously able, like fixing potholes and guardrails. Plus there will be more resurfacing and restriping of roads. We ask the public to 'pardon our progress' as we work to improve our transportation network."
The costliest project is for resurfacing a stretch of I-75/SR 401 in Catoosa and Whitfield counties beginning at U.S. 41/SR 3 and continuing to the Tennessee state line. The project is valued at $24.7 million and will cover 18.6 miles. C.W. Matthews Contracting of Marietta, Georgia, won the contract and will work to complete it by Dec. 31.
Seven bridge projects, including four new construction projects and three bridge rehabilitations, were also awarded.
The new bridges, to be constructed in Banks, Coffee, Haralson and Lincoln counties, are valued at $24.5 million. The bridge rehab projects are for Baldwin/McDuffie, Bibb and Murray counties and are valued at $8 million. This brings the total number of bridge projects awarded under the state's bridge bond program initiated last year to 20. The state legislature appropriated $100 million in bridge bonds.
Safety projects awarded include:
Striping and pavement marking upgrades at various locations on I-85/SR 403 in Coweta, Fulton, Meriwether and Troup counties. Value: $7.8 million Contractor: Peek Pavement Marking, Columbus, Georgia Completion date: Dec. 31
Safety improvement project in Fulton County on SR 8/SR 10 beginning at Piedmont Avenue and extending to SR 42. Value: $2.7 million
Operation improvements on SR 12 (Covington Highway) at Lithonia Industrial Boulevard in DeKalb County. Value: $423,630
Intersection improvements at various locations on US 278/SR6 in Paulding County. Value: $378,000
More information on all the awarded projects is available here.