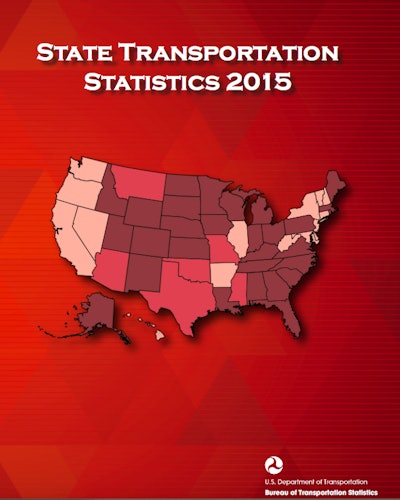 The U.S. Department of Transportation's Bureau of Transportation Statistics (BTS) has published its latest version of the annual State Transportation Statistics (STS) report, which provides data on categories including infrastructure, safety, freight transportation and vehicle-miles traveled for all 50 states and the District of Columbia.
This year marks the 13th edition and includes 116 tables of data. It is a companion document to the quarterly National Transportation Statistics report also put out by BTS.
Also included in the report are descriptions of data sources, a glossary, a summary table of estimated timing of future information releases and contact information for the state departments of transportation.
The report, which is available here, is organized in seven chapters, including:
Infrastructure — includes public road length, toll roads bridges, tunnels, ferry routes, road conditions, number of bridges and conditions, bus transit route mileage
Safety — includes highway traffic fatalities, passenger car and light truck occupants killed, large truck involvement in fatal crashes, highway-rail grade crossing incidents, maximum posted speed limits
Freight Transportation — includes freight shipments, hazardous material shipments, rail shipments, waterborne shipments, truck, train, rail crossings
Passenger Travel — includes commuting figures, licensed drivers, transit ridership, urban transit ridership, major airports on-time arrival
Registered Vehicles and Vehicle-Miles Traveled — includes motor-vehicle registrations, trailer and semi-trailer registrations, highway vehicle-miles traveled, highway congestion
Economy and Finance — includes transportation and warehousing employment, air transportation employment, water transportation employment, truck transportation employment, transit employment, railroad employment
Energy and Environment — includes transportation energy consumption by energy source, energy consumption by end-use sector, transportation energy consumption per capita, motor-fuel use, alternative fuel vehicle fleet and stations.