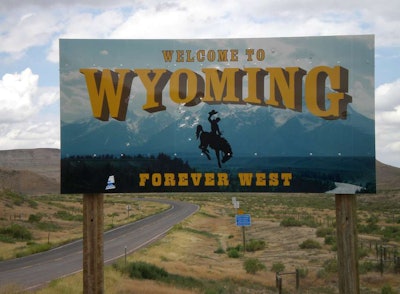 A new study from the Wyoming Department of Transportation has found that 2,358 miles of non-interstate highways in the state could possibly use a speed limit hike.
A report commissioned by WYDOT from Vista West Engineering revealed that of the 6,400 miles of non-Interstate highways in Wyoming, well over a third of those highways might be eligible for raising the speed limit from 65 to 70 mph.
The report's findings were based on the road conditions, traffic volume, location and other factors.
"Obviously, a mountain road would not meet that criteria. This initial screening is to basically chisel down the overall miles that we are looking at," WYDOT assistant state traffic engineer Jeff Brown told the Wyoming Tribune Eagle. "And there is no sense in wasting money trying to look at raising a mountainous road to 70 mph when we know that people can't or shouldn't go that fast."
But those 2,385 miles are not definitely going to see higher speed limits any time soon. The report have only determined they should be studied further. And only 1,546 miles were considered to have the best chance of the higher speed limit.
Of course, there would be a cost for further consideration of the highways. It would cost between $150,000-$310,000 to complete the in-depth study.
And even after the study, it wouldn't be cheap to get the highways ready for higher speeds: $400,000-$500,000 per mile for shoulder widening, $1,000-$3,000 per mile for rumble strips, $20,000 for guardrail update and additional costs for sign upgrades and striping changes.
The higher speed limits would also face opposition from those who say it would make the highways more dangerous. Russ Rader of the Insurance Institute for Highway Safety said that Wyoming should probably just drop the plan.
"The bottom line is that higher speeds will make crashes more likely and more severe when they do occur," he said. "And it's especially worrisome on these two-lane rural highways where crash risks are especially higher."